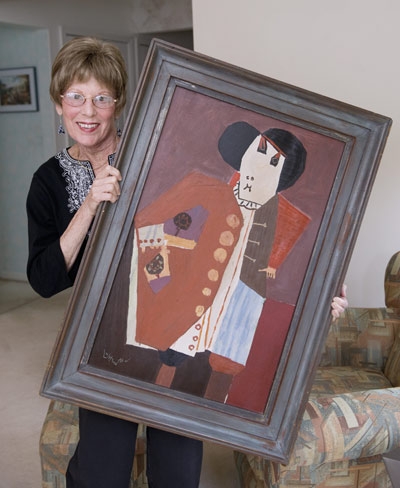 When Enid Liess left the house to go to her temple's fundraising auction, her husband, Jerry, told her not to spend more than $25. This was 1963, so $25 could buy the young couple a nice piece of artwork for the apartment they'd just moved into in Milwaukee. They had a piano but no furniture, and Enid, an art lover, had her eye on a couple of works.
The pieces by local artists were going for more than she could afford—$100 to $150. But then the auctioneer held up a modern painting that had been donated by another congregant, saying he'd never heard of the artist but that it came from a reputable New York gallery.
Enid Liess liked the whimsical nature of the painting and its earth tones, so she raised her hand at the opening bid of $25. She almost had it—"Going, going . . ."—when her friend Doris jumped in: "Twenty-seven fifty!"
Gone!
Liess was furious—until she found out that her friend wanted to buy the painting to give to Liess as a housewarming gift.
Liess thought the gift too extravagant, so she gave Doris $12.50 to put toward the purchase. Then she went home with her new framed painting, titled "The Statesman," and hung the work by the non-Milwaukee artist named Roy Lichtenstein on her living-room wall.
Several weeks later, Liess noticed a story in Time magazine about pop artists with a reference to Lichtenstein. Then in January 1964, she saw a big spread in Life on Lichtenstein, who'd become famous for his paintings of large comic-strip frames done in Ben-Day Dots.
Though the piece in her living room looked much different—it had more of a cubist than pop-art sensibility—Liess put a magnifying glass to the images in the Life article and saw that the signature was the same as the one on her wall. Suspecting she had something of value, she took the painting to the Milwaukee Art Institute to see if an expert could tell her if her piece was by the same artist who'd just burst onto the scene in a big way. "Oh, yeah, that's him," a curator told her casually.
For nearly 50 years, Enid and Jerry Liess—who've lived in Annandale since 1968—enjoyed having a piece by one of America's most famous artists in their home. The work, which Lichtenstein painted in 1951, has been a conversation starter. "It's the kind of painting where people come in and say, 'It's interesting.' But I loved it and my husband loved it, and we've enjoyed it every day."
But the couple has decided to sell the painting—which has been authenticated by the New York-based Roy Lichtenstein Foundation—at auction. On December 4, "The Statesman" will be offered at Quinn's Auction Galleries in Falls Church, where it's expected to sell for $40,000 to $60,000, according to auction-house vice president Matthew Quinn.
That's a far cry from the record $42 million paid in mid-November for Lichtenstein's 1964 painting "Ohhh . . . Alright"—an example of his signature comic-strip painting with dialogue bubble—which sold at auction at Christie's. But for Enid, 74, and Jerry, 80, it will be a much needed financial boost for their daughter, Roberta, who lives in Atlanta with her family.
When Roberta's husband fell ill several years ago and couldn't work, her in-laws helped support the couple and their two children, now 13 and 15. But two years ago, says Enid, the in-laws "went from millionaires to broke overnight": Their money had been invested with Bernie Madoff.
The Liesses tried to pitch in and thought about selling the painting. But instead, Enid, a retired Fairfax County teacher, went back to work, finding jobs with the US Census Bureau, then with the Jewish Community Center in Northern Virginia, and finally with the early-childhood office of Fairfax County.
She was happy to be working again, until a diagnosis of breast cancer interrupted her new routine. A swimmer and jogger, the fit grandmother says she's in good health now after receiving chemotherapy. But the treatments took such a toll that she decided not to return to work.
Now, she thought, it was time to sell the painting.
When Enid contacted Jack Cowart, executive director of the Lichtenstein Foundation, to tell him about the painting, "I could hear his feet dancing on the floor, he was so excited," she says. Cowart was at the Liesses' home within 24 hours to get a look.
Not only was the painting authentic, but it had been considered lost for nearly half a century, Cowart told the couple. He showed them a Lichtenstein sketch for "The Statesman" and also showed them that the frame had likely been painted by the artist as well.
"It's sad—we loved the painting," says Enid, who will attend the auction on Saturday. "But I'm not a person who gets attached to things. People are more important."
The auction house plans to make a facsimile of the painting for the Liesses, so a Lichtenstein will still grace their walls.
As for Doris, the friend who put up most of the money for the work back in 1963, she and Enid lost touch through the years. But they were in contact long enough for Doris to realize the value of her thoughtful housewarming gift.
"She was rather amazed," says Enid, "but didn't want any recompense."
Subscribe to Washingtonian
Follow Washingtonian on Twitter
More>> Capital Comment Blog | News & Politics | Party Photos