What does it take to transform a dull law-firm office into a stylish lawyer's lair? For Williams & Connolly partner Nicholas Boyle, it took seven months, two designers, several contractors willing to work between 11 pm and 6 am to avoid interrupting business, and a lot of cash.
When Williams & Connolly acquired the third floor of its Metro Center building, Boyle seized the chance to customize an empty space, moving from his ninth-floor perch down to one of the new offices. He wanted a traditional, clubby look with modern touches, and a new ceiling was a must. "Coffered ceilings are awesome," he says. He also had two secret compartments built in, though he won't say where they are or what's in them.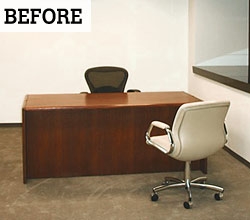 Designers Liz Levin and Stuart McCormick of Georgetown's Liz Levin Interiors oversaw the transformation. Though Levin and Boyle decline to say how much the makeover cost, Levin says a typical quote for such a project is $30,000 to $80,000. She notes that Boyle's office "was definitely high-end."
Boyle also won't say whether he or the firm picked up the tab, though sources at other law firms say anything beyond a standard office setup would likely be charged to the partner.
But Boyle says a stylish workspace was necessary, given that he often puts in 11-to-12-hour days: "I'm in this room more than any other room, probably including sleeping."
This article first appeared in the December 2010 issue of The Washingtonian.
Subscribe to Washingtonian
Follow Washingtonian on Twitter
More>> Capital Comment Blog | News & Politics | Party Photos