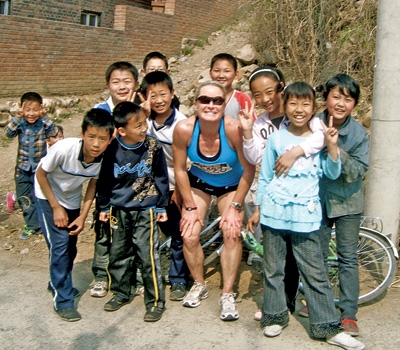 Brooke Curran ran her first marathon in October 2004. Twenty-five marathons later, she's still running.
But now she doesn't do it just for sport. Last year, Curran combined two of her passions: running and giving back to her Alexandria community.
Running to raise money isn't an original idea, but the scope of Curran's ambition might be: She plans to complete a fundraising marathon in every US state and on each continent, including the five major marathons—Boston, Chicago, London, New York, and Berlin.
"I wanted more out of my running," she says. "What can I do to make it more worthwhile and to have an impact on the community?"
Curran, 42, runs a marathon a month and pays for all travel expenses and fees. She's up to 17 states, four of the five majors, and five continents, with Antarctica and Africa still on the to-do list. Her highlights include running along the Great Wall of China and coming face to face with a moose in Anchorage. She's scheduled for South Carolina's Kiawah Island on December 11 and is registered for Antarctica in 2012.
Curran, who grew up in Richmond and got a degree in studio art from James Madison University, is a stay-at-home mother of three teenage daughters; her husband, Chris, is an attorney in DC. Her current goal is to raise $50,000—she's more than halfway there—to benefit a handful of charities. Helping children is her focus. In February, Curran gave $20,000 to the Alexandria-based Child & Family Network Centers, which provides free preschool education to some 200 at-risk children in Northern Virginia.
"I believe that making a great adult starts with making a great kid," she says.
Curran raises money from area businesses, through donations, and by holding events at her Alexandria home. She publicizes her efforts and accepts donations primarily through her Web site, runningbrooke.com. ACT for Alexandria, a community foundation, handles all the donations.
"I didn't realize what impact I could have on others until I took this on," says Curran, who so far has seen her fundraising used to help keep open two Child & Family Network Centers classrooms that serve 36 students. "I feel like I'm doing something really great."
This article first appeared in the December 2010 issue of the Washingtonian.
Subscribe to Washingtonian
Follow Washingtonian on Twitter
More>> Capital Comment Blog | News & Politics | Party Photos