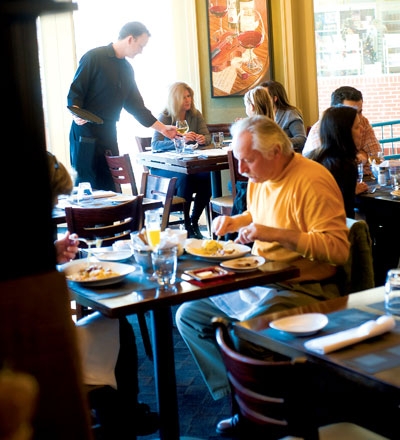 DATE NIGHT
Conversation hums at Bazin's on Church (111 Church St., NW, Vienna; 703-255-7212), a spot for oenophiles (check out the 2004 Valminor Albarino) and comfort cuisine with a twist. Think crusty porcini risotto balls oozing fresh mozzarella and lamb shank with citrus-rosemary gremolata and smoked-onion sauce. Not every dish wows—flounder stuffed with crab has a '70s-fishhouse feel—but there are more hits than misses.
With rustic wood beams and painted Italian ceramics, Assaggi Osteria (6641 Old Dominion Dr., McLean; 703-918-0080) has a similar feel to the Bethesda original, Assaggi Mozzarella Bar. Regional Italian plates such as crisp fried calamari and zucchini, fig-and-arugula salad with lemony dressing, and spaghetti with whole clams and a hit of crushed chilies are nicely done. The wine list is Italy-centric, and desserts such as the marvelous stuffed zeppole go beyond the usual tiramisu.
An expanded dining room means shorter waits at Evo Bistro (1313 Old Chain Bridge Rd., McLean; 703-288-4422), a wine bar with vintages both familiar and esoteric. You can order by the glass or buy a wine card and sample on your own via an automatic dispenser. Besides an extensive cheese-and-charcuterie roster, there are small plates to share. The most successful are Spanish/Moroccan-inspired dishes such as chorizo and clams, chicken with olives and preserved lemon, and lollipop lamb chops.
You'll feel far away from the bustle of Tysons Corner at the Korean spot Woo Lae Oak (8240 Leesburg Pike, Vienna; 703-827-7300). Vivid abstract paintings catch the eye, and a mural of comet-like swirls adds a note of drama. Mung-bean pancake sports a crunchy golden shell around a mashed-potato-like interior. Short ribs have the sweetness of dates and the sharpness of radish. Bibim bap is a lively bowl of beef, carrots, rice, and filaments of kale topped with a fried egg—the idea is to personalize it with a dollop of chili or soybean paste. Condiments, or panchan, such as julienned fishcake, fresh cabbage kimchee, and silken tofu are fun to mix and match, and they add interest to bulgogi or other meats cooked on the gas grill at your table.
It doesn't get more date-nighty than the sleek dining room at Michel (Ritz-Carlton, 1700 Tysons Blvd., McLean; 703-744-3999). See "100 Very Best Restaurants" for more on this newcomer from chef Michel Richard.
AROUND THE WORLD
China Wok (8395 Leesburg Pike, Vienna; 703-893-4488) has the divey vibe of a Chinatown eatery. So it should come as no surprise that alongside the moo shu pork and General Tso's chicken, this no-frills dining room offers more obscure dishes. House-made noodles float in a brothy beef soup redolent of five spice and red chili. Dan dan noodles are slicked with sesame oil for the ultimate Chinese comfort food. Flounder in "superior pickle sauce" isn't especially pickly, but with crunchy fresh bamboo shoots and wood-ear mushrooms, it's a dish you want to keep eating. You don't have to beg for the secret menu at this friendly place—the full roster is right on the table for all to see.
In a few short months, Sushi Yoshi (101 Church St., NW, Vienna; 703-242-1350) has become the go-to restaurant for Japanese expats. Expertly cut sushi artfully arrayed on platters and little bowls brimming with delicacies are the draw. White tuna appears in several guises: sashimi style, marinated and grilled, or wrapped around a stellar spicy and crunchy shrimp roll. Other pleasures include thin-sliced lotus root and a crusty wedge of pork belly in sweet soy gravy.
The low-country lineup at Coastal Flats (Tysons Corner Center, McLean; 703-356-1440) is rife with diet-busting thrills: savory doughnut-like rolls with sweet butter, salt-and-pepper fried shrimp in a bun with crisp fries, and deviled eggs with sugar-cured bacon. With colorful fish mobiles, the often jammed dining room feels more South Florida than Old South—regulars know to reserve or call ahead to shorten wait times. And don't miss the flourless chocolate waffle with a scoop of vanilla ice cream—the signature sweet of the local Great American Restaurants group.
MIDDLE EAST CONNECTION
In Vienna, Rose Restaurant (126 Maple Ave. W.; 703-255-2557) does many Persian standards well. Kebabs, especially saffron-scented Cornish game hen and kubideh, are juicy and flavorful. Tender lamb shank mates beautifully with a heap of basmati rice and tiny tart barberries. But the stars are the robust beefs stews: gheymeh with lentils, onion, and beef in a tomato-filled brew and ghomeh sabzi with red beans and herbs. Lace tablecloths covered with clear plastic in the airy dining room may make you feel as if it's Sunday dinner at Auntie's house.
McLean's answer to Rose is Amoo's House of Kabob (6271 Old Dominion Dr., McLean; 703-448-8500), which is similar in feel and decor. Persian music plays as a backdrop, and plates are piled high with fluffy basmati and assorted kebabs. Juicy, flavorful kubideh is outstanding, as are two chicken picks: classic as well as fiery tandoori style with a green jalapeño rub. Beyond these are other pleasures. Soulful ash-e-reshteh soup, thick with noodles and beans, is one of the better renditions in the area. Same goes for silky kash ke badmejan, an eggplant purée with a hint of sweetness and a dollop of fried onion. If it's available, be sure to order a round of taah deg, a rice pot atop a buttery golden crust that's prized by Persian diners.
Part grocery, part cafe, Al Nakheel Café (340 Maple Ave. W., Vienna; 703-938-4220) has at least two must-trys for fans of Lebanese fare: baba ghanoush with a smoky finish that sets the bar in the area and a satisfying mash-up of chicken shawarma, hummus, and French fries tucked into a pita.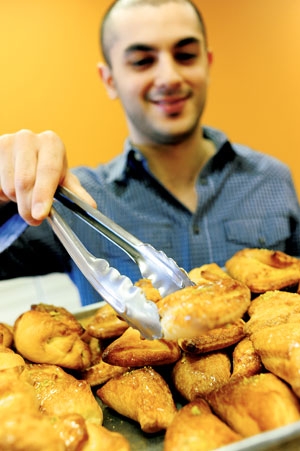 SUGAR AND CAFFEINE FIXES
You may never eat regular frozen yogurt again after tasting the swirls at Molly's Yogurt (521 Maple Ave. W., Vienna; 703-938-4221). This homegrown shop uses thick Greek-style yogurt as a base for its tart fro-yo, and the results are ultra-creamy. Gelato—we like the caramel apple—and sorbetto are made locally, too.
Nearby is another sweet stop: Café Nemooneh (525 Maple Ave. W., Vienna; 703-242-2233), a chic new Persian cafe with burnt-orange walls and a dizzying array of Middle Eastern sweets. Best are the custard-filled Danish and two kinds of baklava: The Persian rendition is heavy on nuts ground to a paste with scant phyllo; the Turkish version layers buttery phyllo with chopped nuts. House-made gelato in flavors such as chocolate-bourbon and Persian-style saffron-pistachio gets raves, too.
At the community-minded Caffè Amouri (107 Church St., NE, Vienna; 703-938-1623), coffee takes center stage—courtesy of a sculptural yellow roaster that gleams like a Maserati. The cafe also takes hot chocolate seriously. Made with Belgian-chocolate disks rather than cocoa powder, all three versions—milk, semisweet, and bitter—taste as if they've been ladled from Roald Dahl's chocolate river.
Nielsen's Frozen Custard (144 Church St., Vienna; 703-255-5553), with its retro ice-cream-parlor feel, is a favorite for velvety custard in vanilla and chocolate plus a couple of seasonal flavors. A newcomer to the scene, Plush Gelato & Coffee (175 Maple Ave. E., Vienna; 703-981-8358) has a well-edited selection of pastel-hued house-made gelato and sorbetto—Thai tea and honey-ginger get kudos. Coffee is from Caffé Pronto roaster in Annapolis, which imports beans from such locales as Guatemala, Papua, and Sumatra. The naturally decaffeinated espresso is especially good.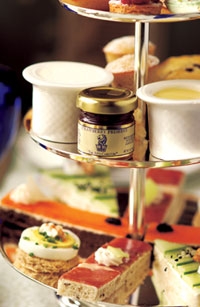 SHOPPER'S EATS
There's nothing easier than grabbing a slice on the run. But you don't want just any slice. The pizza at Luciano Italian Restaurant & Pizzeria (Tysons Corner Center, McLean; 703-893-8488) takes its cue from New York City—meaning crisp, thin crusts, robust sauce, and a scattering of cheese.
At the kid-friendly Nordstrom Cafe (Tysons Corner Center, McLean; 703-761-1121), look for bright salads such as salmon niçoise and sandwiches creative and classic—the tuna salad is pure nostalgia.
The boxy glass-walled NM Cafe at Neiman Marcus (Tysons Galleria, McLean; 703-761-1600) is a meet-up spot for ladies who lunch and shop. Try the tortilla soup with a flotilla of cheese, the seafood salad, and the flaky monkey bread with the cafe's signature strawberry butter.
Tea at the Ritz-Carlton's Entyse Bar & Lounge (1700 Tysons Blvd., McLean; 703-506-4300) is a genteel affair with tiered trays of finger sandwiches and doll-size pastries, cushy wing chairs, and parlor tables.
FAST AND CHEAP
The best gyro in the area is at Plaka Grill (110 Lawyers Rd., NW, Vienna; 703-319-3131), and it's not the same old lamb in a pita. Crisp-edged roast pork, creamy tzatziki, and thin slices of red onion make for a blue-ribbon-worthy sandwich. Also good: airy taramasalata and spanakopita with leeks.
At Amma Vegetarian Kitchen (344 Maple Ave. E., Vienna; 703-938-5328), the oversize South Indian lentil-and-rice-flour crepes known as dosas are stuffed with savory fillings such as masala or mashed potato and onion. Balloon-like puffed whole-wheat poori bread with spiced potatoes on the side is another hit. And if you like it hot, coconut chutney should be liberally slathered on everything.
The pasty, a savory half-moon-shaped pie filled with meat and vegetables, originated in Cornwall, England, in the 1200s. Now a tiny shop, the Pure Pasty Co. (128-C Church St., NW, Vienna; 703-255-7147), is making these meals-in-a-crust using organic meats, vegetables, and flour. Best are the cheese-and-onion and the grass-fed ground beef and butternut squash.
At Church St. Pizzeria (115 Church St., NE, Vienna; 703-938-1155), slices have that New York City look and taste: a thin crust, a slick of sauce, and the right amount of cheese. In keeping with the New York theme, Italian ices—we like the lemon—are on the dessert roster.
Among the best buys in town are the chili dogs at the local hangout Vienna Inn (120 Maple Ave. E., Vienna; 703-938-9548). Round things out with gravy fries and a well-priced draft beer.
In McLean, Sweetleaf (1359 Chain Bridge Rd.; 703-893-2323) is a homegrown local favorite for salads such as the Santa Fe with black beans, tortilla chips, cilantro, and avocado and sandwiches including the meaty Italian. You don't have to travel for dessert: There's ice cream, fro-yo, and house-made baked goods.
Meats from the organic butcher next door and locally sourced fixings set Joe's Amazing Burgers (6710 Old Dominion Dr., McLean; 703-288-0288) apart from the spate of trendy burger bars. Wood floors and Redskins memorabilia give it the feel of an old-time burger joint. But the burgers go beyond run-of-the-mill patties with American cheese. The Butcher's Choice comes with aged cheddar, horseradish mustard, and caramelized onions. Or go for the lamb burger with green-olive relish, feta, and tzatziki. Live dangerously and try the sweet potato fries and chocolate malt, too.
BEST OF THE CHAINS
The Palm (1750 Tysons Blvd., McLean; 703-917-0200) may not have the politico sightings of the downtown DC address, but it dishes out the same classics that made that local outpost famous: the Gigi, a chopped salad with shrimp, green beans, and bacon; the Half-and-Half, a basket of cottage-style fries and fried onion straws; and prime bone-in rib eye.
Though its menu reaches from Maine lobsters to Copper River salmon these days, Clyde's (8332 Leesburg Pike, Vienna; 703-734-1901) is best known for its crowd pleasers: creamy crab-and-artichoke dip, lump crabcakes, and char-grilled burgers.
The lively second-floor bar at Legal Sea Foods (2001 International Dr., McLean; 703-827-8900) is the place to duck into when you want New England seafood. Thick clam chowder, steamers, lobster rolls, fried whole-belly clams, and jumbo lump crabcakes are the plates of choice.
This article first appeared in the January 2011 issue of The Washingtonian.
Subscribe to Washingtonian
Follow Washingtonian on Twitter
More>> Best Bites Blog | Food & Dining | Restaurant Finder