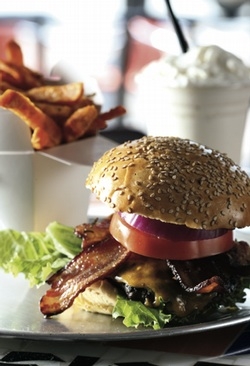 Washington is in the midst of a burger war, with spots such as Ray's Hell-Burger, Good Stuff Eatery, and BGR the Burger Joint vying for customers. And with the opening of brgr:shack in Ballston a couple days ago, the battle has become one for the courts.
"We've engaged legal counsel to protect our trademark," says Mark Bucher, founder and executive chef of the similarly titled BGR the Burger Joint. "We hope they change their name."
Bucher speculates that Shake Shack—restaurateur Danny Meyer's New York-based burger chain, destined for Dupont Circle this spring— may also request a cease-and-desist order.
So why debut a hamburger place by annoying two of the established heavy-hitters in the field? Bucher suspects that brgr:shack dropped the vowel and added the "shack" to attract the success of its two competitors. Both chains have devoted followings at each of the their locations, and both are expanding rapidly. When we spoke with Bucher Wednesday, the ribbon had just been cut on BGR's Springfield location, with spots in Clarendon, Cabin John, and Miami on the way, among others locally and nationally.
For their part, brgr:shack representatives insist that the restaurant's name is original and has nothing to do with other burger businesses.
"The reason why we named it brgr:shack is that it used to be a shack," a manager, who wishes to remain anonymous, says. The manager described the former Eat N Run deli space as "run down" before extensive renovations. As for comparisons with BGR?
"We don't want our brand associated with theirs," the manager says. "I don't like the product. We're totally different. So if there's confusion, we may change the name."
Totally different may be a stretch, considering hamburger joints are similar by nature of serving the same product. And while not a carbon copy, the Ballston spot's formula isn't far from BGR's. It doesn't call for legal action, but there are familiarities: a fast-casual place that serves beer and wine alongside milkshakes, and gives its burgers creative toppings and fun names.
Besides the naming issue, Bucher isn't sour grapes over seeing a new face on the ever-expanding burger scene.
"People jump in the game, and at that point it's survival of the smartest and fittest," Bucher says. "It keeps you on your toes. People who get tired of competition aren't meant for the restaurant business."
Subscribe to Washingtonian
Follow Washingtonian on Twitter
Follow the Best Bites Bloggers on Twitter at twitter.com/bestbitesblog
More>> Best Bites Blog | Food & Dining | Restaurant Finder