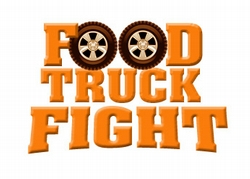 Food trucks that have been eliminated in the Food Truck Fight are listed in strikethrough font.
1. Red Hook Lobster Truck: With more than 12,000 Twitter followers and hour-plus waits for lobster rolls, this truck is undoubtedly one of Washington's most popular.
2. Blues BBQ Company: This unassuming baby-blue truck in a car-dealership parking lot cranks out some of the tastiest cue we've had and amazing hushpuppies.
3. Takorean: LA loves its kimchee-laced Korean tacos, and now downtown DC lunchers get some, too.
4. Fojol Bros.: One of the area's street-food pioneers, this truck blasted onto the scene with turned-up music, dancing, costumed owners, and bold Indian flavors.
5. El Floridano: Cuban sandwiches and banh mi share space with freshly made soups. Sandwiches come in vegan-friendly versions, too.
6. Solar Crepes: This hot-pink truck, which parks in either Ballston or Clarendon, griddles up sweet and savory crepes made with prime ingredients such as eggs from PolyFace Farm.
7. SweetFlow Mobile: The closest thing we've got to an ice-cream truck, this roving version of Sweetgreen's ubiquitous storefronts turns out its signature frozen yogurt and healthy salads.
8. District Taco: One of Washington's longest-running trucks, this Arlington fixture is now also a bricks-and-mortar storefront.
9. Eat Wonky: Montreal expats can get their poutine fix here. Besides the gravy-and-cheese-curd-topped fries, there are hot dogs and stellar whoopie pies.
10. Sâuçá: Three trucks peddle flatbread-like sâuçás with an atlas worth of fillings, from Vietnamese pork banh mito beef shawarma to buffalo chicken.
11. Windy City Red Hots: This Ashburn truck pays homage to Chicago with sport-pepper-and-celery-salt-topped hot dogs and Italian beef sandwiches.
12. Pedro and Vinny's: John Rider turns out veggie burritos only from his little cart at 15th and K streets, Northwest, and customers can choose from a bevy of hot sauces, including Rider's own "goose sauce."
13. Yellow Vendor: Owner Andy Kim brings a taste of Annandale's Koreatown to downtown DC with different kinds of bulgogi.
14. Cap Mac DC: A former Bourbon Steak line cook mans this Velveeta-orange truck, which dishes up chicken meatballs with bechamel and rigatoni along with a standout old-school mac-and-cheese, which is finished with a sprinkling of crumbled Cheez-Its.
15. DC Empanadas: A newcomer to the food-truck scene, this blue truck serves up
16. DC Pie Truck: Baltimore-based Dangerously Delicious Pie Company hits the road, bringing its sweet and savory pies to downtown DC.
17. Pleasant Pops: This truck is currently on winter hiatus, but last summer, people went crazy for its freshly made, Mexican-inspired popsicles.
18. Choupi Crepes: This Rosslyn vendor griddles up crepes both sweet (apricot-preserves; apple-cinnamon) and savory (ham and cheese; tomato-mozzarella).
19. Big Cheese Truck: Grilled cheeses on the go are the thing at this DC and Virginia-roaming truck. There's classic cheddar (with tomato soup, of course), but also more boutique-y creations such as brie-apple-and-honey.
20. BBQ Bandidos: Two of the area's culinary blindspots—Mexican and barbecue—get some attention at this Arlington-based truck.
21. Tasty Kabob: Gyros and skewered meats served with rice draw the Arlington lunch crowd to this pair of trucks.
22. Sidewalk Sweets: This truck takes the cupcake craze to the next level with miniature apple and key-lime "cup-pies" and rum-and-Coke-flavored "cuptails."
23. DC Love Bites: Creative cupcake flavors such as gingerbread and cranberry mix with nostalgic birthday-party favorites such as chocolate-iced yellow cake.
24. Sweet Bites: Although it spotlights nine cupcake flavors each day, this bakery on wheels offers scones, macaroons, and muffins, too.
25. Bada Bing DC: Chef Nicholas Terzella has traded fine dining for cheesesteaks and spiedies, sandwiches loaded with grilled meats accented with Asian, Greek, and Cuban stylings.
26. Taco Carrito: Ballston gets a taco fix at this truck, which serves up tortillas filled with chicken, veggie, and steak.
27. Curbside Cupcakes: This pair of trucks hit the streets at the height of cupcake mania with flavors like Key lime and peanut-butter cup.
28. DC Slices: Pepperoni, sausage, and veggie pizzas are served up in oversized triangles.
29. Porc Mobile: Smoked brisket, pulled pork, and sloppy Joe sandwiches are the thing at this three-week-old truck.
30. Meat Head Mobile: Carnivores are wooed with sandwiches such as the "Oink Oink," stuffed with pork, coleslaw, and barbecue sauce.
31.
Cafe Vida Express: This truck aims to get workers out of an afternoon slump with espresso, cappuccino, and a selection of sweets.
32. District of Pi: Deep-dish pizzas are the thing at this truck, which will soon be accompanied by a full restaurant in Penn Quarter.