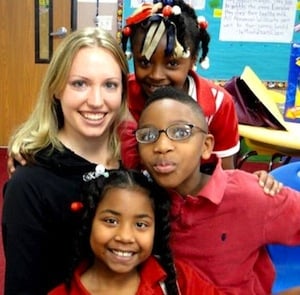 Experts say you should get new running shoes once you've run 300 to 500 miles in a pair. It's the rule Sarah Stanley follows—which is why she gets a new pair of shoes almost every month. Stanley, an ultramarathon runner who lives in Bethesda, logs about 80 miles a week.
"I go through a lot of shoes," she says.
Stanley's been running since she was a teenager, when she figured out that regular exercise was a good way to relieve stress. As she excelled at the sport, she began to think of ways to incorporate what she calls her life mission statement—"to be a blessing to someone, somehow, somewhere, some way"—into her passion for running.
Fast-forward to her twenties. Stanley had run a few marathons but was craving a bigger challenge. She decided to switch from road to trail running in order to train for longer distances. (Trails are easier on the body than pavement.) Stanley had her sights set on becoming an ultramarathoner.
An ultramarathon, she explains, is technically any distance longer than a 26.2-mile marathon. But classic ultramarathon races are 50 kilometers, 50 miles, 100 kilometers, or 100 miles. They're brutal events, sometimes requiring more than a day to finish. They require as much mental as physical discipline. And training for them is almost a full-time job: Stanley says her normal weekend training runs are upward of 30 miles a pop.
Stanley completed her first ultramarathon, a 50K, in March 2009. At the last minute, the 29-year-old decided to take her BlackBerry with her and tweet updates along the way—all 6 hours and 30 minutes of it. People responded. "It really got people motivated and inspired," she says. "It was like, 'If she can run 31 miles on a cold March morning, what can I do?' "
Four weeks later, when she ran a 50-miler, Stanley brought her phone again. Then it clicked: This is how she could combine running with her mission. Through her example, she could inspire people to be healthier. "That race was the springboard for my Web site, Sarah Stanley Inspired," she says.
In addition to maintaining a rigorous workout schedule—Stanley runs, bikes, lifts weights, and does yoga and Pilates in a typical week, working out up to seven hours a day—she sets aside time to speak at schools, motivating young kids to move their bodies.
"These kids are our future leaders, but how can they lead us if we're not leading them today?" Stanley says. "I want to give these kids a role model and say, 'You can do something positive with your life.' "
Since completing her first 50K two years ago, Stanley has finished 20 races, including a 100-miler in South Dakota; a nearly 200-mile relay race from Cumberland, Maryland, to DC; and a Double Boston Marathon, making her the only woman to complete the 52.4-mile course in 2010. Last year, she also spent six days in September cycling 276 miles from DC to New York City, stopping at schools along the way to talk to kids about eating right and exercising.
This year, she has set a goal to complete all 19 Rock 'n' Roll Marathons in the country. She's lining up speaking engagements at schools in each city. "Sometimes kids can't quite comprehend 100 miles, so I tell them you would have to go around a track 400 times to go that far," she says. "Then they get the message."

Have an inspiring health or fitness story to share? We want to hear it. E-mail wellbeing@washingtonian.com with details.