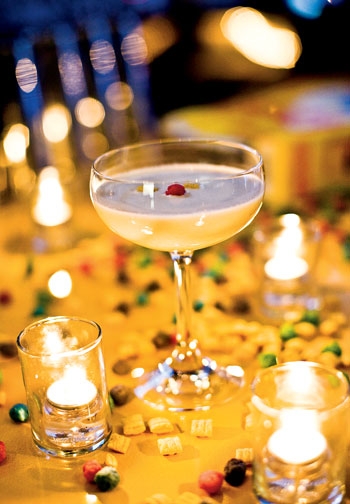 Smoker's Delight at PX/Restaurant Eve
One of bartender Todd Thrasher's most popular cocktails, the Smoker's Delight combines a tobacco tea—180-degree water infused for an hour with Old Virginia tobacco and a honey/water mixture—with bourbon, lemon juice, honey, and water. "You get the aromas of the tobacco first," says Thrasher. "Then when you taste it, you get the burn in your throat like a cigar."
Sav U'R Cereal at PS 7's
Gina Chersevani's ode to the cereal-milk-flavored ice cream at New York's Momofuku is based on milk infused with the kids' cereal Cap'n Crunch. The beverage is updated for adults with Old Overholt rye bourbon and St. Elizabeth Allspice Dram and garnished with two pieces of regular Cap'n Crunch and one piece of Crunch Berries.
Cheers Professor at Againn
Mixologist JP Caceres pays homage to "Professor" Jerry Thomas, one of the first American craft-cocktail bartenders, with this play on a Manhattan. Caceres mixes brown butter with St. Germain elderflower liqueur before adding rye whiskey, Punt e Mes vermouth, orange bitters, and bacon-infused maraschino cherries. Says Caceres: "Everybody loves butter and bacon."
Russian Bathhouse at Sidebar
The menu at Jackie Greenbaum's Silver Spring speakeasy features this spicy blend of horseradish-infused vodka, vermouth, and fresh dill. In keeping with the name, it comes with a demitasse spoon of black caviar. "I don't like sweet drinks," says bar manager Gordon Banks. "I think about flavors that work in food, and I try to incorporate them into drinks."
Michelada at ChurchKey
Beer director Greg Engert isn't usually a fan of beer in cocktails, but he made an exception for the Michelada, a fusion of a Mexican beer cocktail and a Bloody Mary. Engert mixes tomato and lime juices with soy, Tabasco, and Worcestershire sauces, then tops it all off with a Kölsch beer from Cologne or a smoked rauchbier from Bamberg: "The Kölsch offers a light, refreshing sweetness that keeps the drink bright; the smoked beer adds almost a bacon saltiness."