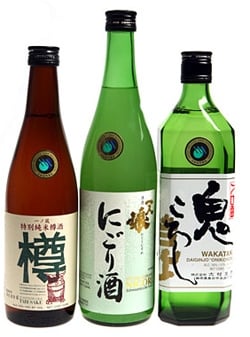 Sure, the buds are beautiful, but you can't stare at them all day. Looking for some after-hours festival-themed fun? Cap off a day at the Tidal basin with a warm shot of sake, the traditional Japanese drink. Here's a list of Washington bars and restaurants with the most extensive sake menus, delicious themed cocktails, and fun happy hours.
DC
Asia Nine
Yummy-sounding sake cocktails here include the Capitol Hill (Absolut Pear, Blue Curacao, house-made sour mix, pineapple juice, and Gekkeikan plum wine) and a seasonally appropriate Cherry Saketini (chilled cherry SakeAlchemy, wild-cherry vodka and infused cherries). It also has a large selection of Japanese beers.
Cafe Japone
While it my not be a place to bring a date you want to impress, Dupont Circle's Cafe Japone is sure bet for some sake-bomb-fueled karaoke fun. Happy-hour specials include $5 sake bottles, $4 Sappoo, and $3 sushi rolls.
Current Sushi
The best-selling sake here is Hakushika Yamadanishiki ($14), which also goes by the nickname Yama Hai. It's a well-balanced sake, not too dry and very fragrant. The Hakushika Fresh and Light ($7) is a good choice for first-time sake drinkers. It's easy to drink and comes in a smaller bottle. Current also serves several sake-based cocktails and has a happy hour (Tuesday through Friday 5 to 7) with $5 glasses of the house sake.
Kaz Sushi Bistro
The sake-sellers at Kaz are definitely looking to educate their customers. At this downtown DC restaurant, the sake menu divides its selection into Fragrant, Light and Smooth, and Rich, then breaks the choices down into different grades of quality. It also gives food-pairing tips for each beverage. For those looking focus in on the drink, two tasting flights and sake-tinis are also available.
Nooshi
The popular "crazy hour" (Monday through Saturday 3 to 7) at this sushi bar offers half off everything on the menu from sushi to sake.
Plum Blossom DC (1915 18th St., NW)
Sake cocktails include the signature Plum Blossom (sake, plum wine, and Triple Sec) and Pachinko Spritzer (sake, apple juice, pear nectar, and club soda).
Sei
Serious about sake? Got some cash to burn? Try a bottle of the Born Iceberg ($120), which has notes of pear, apple, and peach, or the Ken Daiginjo ($175), described as "fruity and crisp." Looking to make less of an investment? A sake flight includes two regular varieties and one filtered option. Sake cocktails include the Liquid Wasabi (unfiltered sake, vodka, lime juice, and simple syrup infused with habanero peppers and ginger). Sei has a happy hour Monday through Thursday from 5 to 8 with $5 beer and wine and $7 cocktails.
The Source
At the Newseum's Wolfgang Puck restaurant, diners looking for a more complete way to enjoy the drink can order the chef's tasting menu for $200 a person with wine and/or sake pairings.
Zengo
Try an $11 sake flight, in which you can taste an once of three different sakes. During the Cherry Blossom Festival, the restaurant will also be serving the Blushing Geisha cocktail, made with Absolut Kurant, sake, and brandied cherries.
Zentan
Try a Spicy Thai martini, made with Thai-chili-infused vodka, unfiltered sake, and a splash of cranberry St. Germain.
VIRGINIA
Woo Lae Oak (8240 Leesburg Pike, Vienna)
Thursday happy hour (5 to 8) means two-for-one sake bombs. Every day there are a few different sakes to try, including a carafe of hot sake or a glass of choya sake, which is plum wine.
MARYLAND
Sushi Damo (Rockville)
This Rockville spin-off the popular Manhattan restaurant has a sake-tini flavor for everyone. "Plain" is made with sake, vodka, and cucumber, but you can also get peach, mango and pear.
Tako Grill (Bethesda)
Standouts include the unfiltered Momokawa Pearl, which has a stronger taste, and the Kurosawa, which falls in the middle of the sweet-to-dry scale—perfect for those who are unsure about sake. Happy-hour specials include half-price draft beer, wine, and appetizers. Monday through Thursday 5:30 to 7 and Friday through Sunday 5 to 7.