DC writer Louis Bayard writes character-driven historical thrillers that breathe fresh air, scented with malice, into the literary past. In previous novels, he channeled Edgar Allan Poe, French detective Eugène François Vidocq (the inspiration for Les Misérables), and Tiny Tim of A Christmas Carol. Bayard is a writer most at home in history's shadows, which is why his latest, half of which unfolds in contemporary Washington, takes some getting used to.
Opening at the Folger Shakespeare Library, the novel finds ruined Elizabethan expert Henry Cavendish at the memorial service of an antiquities dealer whose suicide may have been related to his possession of an encoded letter penned by 16th-century scientist Thomas Harriot, a comrade of Sir Walter Raleigh and Christopher Marlowe in a secret society called the School of Night. Bodies pile up and sparks fly in the hunt for the artifact as Cavendish joins ranks with a strange beauty suffering visions of the forgotten genius.
That the novel only truly starts to hum when Bayard turns his attention to the past and the romance between Harriot and his servant girl—a savant working against the clock to transmute common metals into gold—begs a question: Why fool around with the present when history is so irresistible?
This book review first appeared in the March 2011 issue of The Washingtonian.
Subscribe to Washingtonian
Follow Washingtonian on Twitter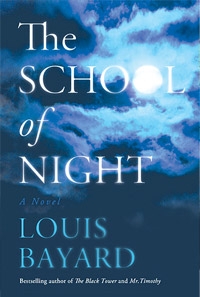 Author:
Louis Bayard
Publisher:
Henry Holt and Co.
Price:
$10.75