Washington has never been known for its great barbecue, but that might be starting to change. Texas-style Hill Country just arrived in Penn Quarter, and recently launched food trucks such as BBQ Bandidos and Porc Mobile have given new meaning to "roadhouse 'cue." And now there's another player bringing meat to the streets: the Carnivore BBQ truck, on the road since last Tuesday.
Owner and pit master Steve Adleson's menu—two sandwiches and canned soda—is small, but, he says, "We have all the important food groups: pulled pork and brisket."
There's also crunchy, mayo-less slaw that serves as a tangy topping for the barbecue sandwiches (pork $8, brisket $9). Other than that veggie diversion, though, the focus is on the meat. Adelson uses a molasses-spiked brine for the beef brisket, which is soaked for four to six hours before entering a hardwood-fueled smoker for up to another 22. The pork gets a simple rub of salt and pepper before an equally lengthy stint in "Old Smoky." The end result is a generous pile of chopped tender meat in an Uptown Bakery bun, doused with homemade, Memphis-style barbecue sauce—a slightly sweet, tomato-based vinegary concoction (with so much meat, it's a good idea to ask for extra).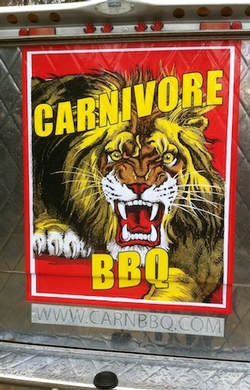 Adelson keeps the preparation simple so he doesn't mask the flavor of his locally—and sometimes organically—raised beef and pork. The Carnivore BBQ truck roamed around Maryland farmers markets—where some of his meat purveyors set up shop—for nearly three years before joining the lunchtime truck pack in the District.
For all the care spent on sourcing, Carnivore BBQ is less streamlined than other mobile vendors. The truck isn't a five-man vehicle decked out with a flat top and custom-designed wrapping, but instead a 1988 Chevy C20 pickup with room for two. There are hand-painted flames on the flanks, and Adelson commissioned a local artist to paint a wild-eyed tiger on the back, a menacing, fierce character. And "Old Smoky" isn't some high-tech machine, but rather a project from disabled Vietnam War veteran Frank Jordan. He crafted it by hand, only to discover that he couldn't physically tend it; he put it on eBay in Florida, and Adelson drove there to pick it up. In the future, Adelson will designate days when he'll donate a portion of Carnivore's proceeds to the vet. Other plans are on the horizon too, such as fresh lemonade and a variety of barbecue sauces. But with all the important food groups covered, there's not much else to change.
Related:
An Early Look at Sabor'a Street
Subscribe to Washingtonian
Follow Washingtonian on Twitter
Follow the Best Bites Bloggers on Twitter at twitter.com/bestbitesblog
More>> Best Bites Blog | Food & Dining | Restaurant Finder