The key word of the episode on last night's Top Chef: All Stars was "conch." It was a little like that scene from Forrest Gump—conch chowder, conch vinaigrette, conch linguine, conch ceviche. You get the idea. And we got to see Padma in a bikini. We also got to see Mike Isabella in his bathing suit. One of them looked hot.
The Elimination Challenge had the four finalists roughing it. They had to snorkel off the beach for their featured ingredient—you guessed it—conch. Then they struggled to break the sea snails out of their huge shells. Richard looked so stressed out, we worried about his mental health. The chefs cooked outside on the sand, using only wood-burning grills and a few pots and pans. The goal was to impress diners celebrating the 80th anniversary of the Nassau yacht club. Like the first Bahamas challenge, sort of a boring mission, no?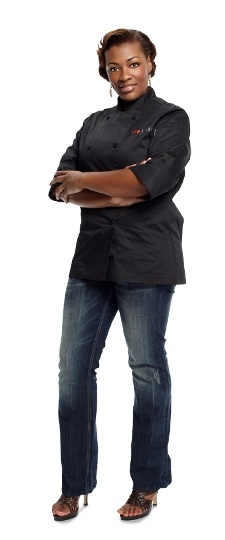 In the end, Mike's braised pineapple and grouper topped with conch vinaigrette got him the win. Tiffany's conch chowder with ceviche—meant to be warm but served cold—was deemed the least-successful dish. The judges sent her home, leaving Mike, Richard, and Antonia as the final three.
Here, Tiffany talks about diving for conch, her relationships with the other chefs, and the restaurant she's opening in Dallas.
You and Carla were very close. Did her leaving last week impact you during this week's challenge?
I wasn't happy to see Carla go. I do understand it's a competition. I think that I went into the Quickfire with the attitude of "I'm not going to go out like this." That was a good thing for the Quickfire. In the Elimination Challenge, I really took to heart what they told us in the previous [challenge] of not being bland and doing something of the island. I think I really did do a good dish.
Do you regret mixing cold ceviche with a warm soup?
I don't think that was the problem. To me, that's not anything strange. You eat a black-bean soup, you eat it with pico de gallo. The idea of hot and cold is not strange by any means to me. I just think the soup should've been served tableside. It became pretty chilly outside. I think I should've waited [to serve it]. I think I got a little antsy.
The male chefs seemed to get more snarky as you all got closer to the finals. Do you agree that was the case?
You could definitely feel there was this kind of like, "we're the guys, we're ready for this, you guys don't take this seriously." I find it funny that certain people didn't feel I was a competitor. If I didn't take it seriously, I wouldn't be there. Maybe I don't curse everybody else and talk all the smack, but I'm definitely here to do the best I can do.
Can you describe the conch-diving experience?
It was amazing. Diving into that water, and it's hot outside, and it's bright sand and blue water. It was so much fun. I forgot I was competing. I just felt like I was on vacation. It was so much fun. That was my favorite challenge by far.

Was it tough rolling right from your season into the All Stars season?
It was difficult. It was good in the beginning because I had the momentum, but you just get tired. I was dealing with some other things. I had lost my grandfather like two days before the season began. You're thinking about your friends and family.
What's next for you?
I'm building a restaurant in Dallas. It's called Private Social. That's my baby that I'm working on.
Can you explain more about the restaurant?
I have a chef's room that has this old Hollywood-glam feeling to it. It's encased in glass. You go into the social side and it's the bar. Lots of small plates. We'll have a wrap-around patio. I'm really trying to get back to just really good food, small menus. Good food, good service.

Who was the most helpful to you during All Stars?
The chef I learned the most from was Richard. He's just full of information. He just opens up. I learned a lot. I'd ask different questions. I'm not the molecular girl, but I'm interested now in trying a few things.
Who are you rooting for?
I'm rooting for Richard and Antonia. Antonia, I think she's done so well. We haven't seen enough of her. She hasn't gotten enough credit. She's really consistent. She might not be as inventive as Richard, which I like that, too. I'm like wow, Richard, you're crazy. He'll see one ingredient and see 100 different things to do with it. It's the way his mind works. I really want Richard or Antonia to take it.
Subscribe to Washingtonian
Follow Washingtonian on Twitter
Follow the Best Bites Bloggers on Twitter at twitter.com/bestbitesblog
More>> Best Bites Blog | Food & Dining | Restaurant Finder