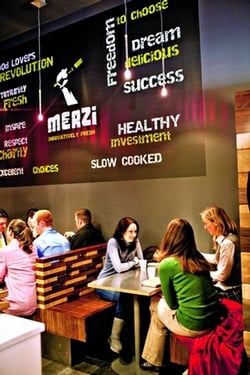 Many an entrepreneur has looked at the lines winding out the doors of a Chipotle and thought, "I could do that." Now two new places show how influential the burrito chain's model has become: Merzi, an Indian-inspired cafeteria in DC's Penn Quarter, and Cava Grill, a dressed-down version of the local Greek mezze chainlet.
At each, industrial decor and communal tables recall Chipotle. The ordering processes are the same, too. Get in line, pick a base (rice, bread, salad), then have it topped with a protein, sauces, and veggies. No dessert, no nonsense. It's a formula that works, especially when the food is fresher, cheaper, and more interesting than your average pay-by-the-pound workday lunch.
At Merzi, rice or chaat—an everything-but-the-kitchen-sink mixture of beans, vegetables, yogurt, and tamarind-date chutney—makes the best start. Less appealing are naan (soggy) and romaine salad (skimpy).
Next, add well-seasoned shrimp ($7.98) or a hunk of tandoori-spiced boneless rotisserie chicken ($7.77).
Warm sauces and cold chutneys range from mildly spicy to hot. They're ladled liberally on top of your whole order, so that red-chili hot sauce can pack a wallop. The medium-level warm sauce, which recalls creamy tikka masala, and the cooling, sour-cream-based medium chutney are pleasantly complex without being overpowering.
There are a few accents to meals here: a heavily seasoned potato-and-pea-stuffed samosa ($1.49), a frozen-tasting potato tikka (99 cents) stuffed with spiced paneer cheese, and a sweetened mango lassi ($2.49).
At Cava Grill in Bethesda, the bases are rice, pita, or a bed of chopped romaine. A trio of mini-pitas that can be customized is a great way to sample the menu (prices depend on toppings). At the suggestion of the guy behind the counter, we paired lamb with spicy harissa, falafel with an eggplant-and-roasted-red-pepper dip, and—the most delicious choice—seasoned ground sirloin with tzatziki.
Also good was the crisp salad topped with roasted chicken, jalapeño-spiked "crazy" feta, and hummus. If you're more interested in grazing, go for the mezze ($6.40), a choice of three dips that comes with a habit-forming bag of oil-brushed, seasoned pita crisps.
Both Cava Grill and Merzi hint at future locations on their Web sites, and crowds are happily lining up at both. Watch your back, Chipotle.
Merzi, 415 Seventh St., NW; 202-656-3794. Open daily for lunch and dinner. Cava Grill, 4832 Bethesda Ave., Bethesda; 301-656-1772. Open daily for lunch and dinner.
This article appears in the March 2011 issue of The Washingtonian.
Related:
Subscribe to Washingtonian
Follow Washingtonian on Twitter
Follow the Best Bites Bloggers on Twitter at twitter.com/bestbitesblog
More>> Best Bites Blog | Food & Dining | Restaurant Finder