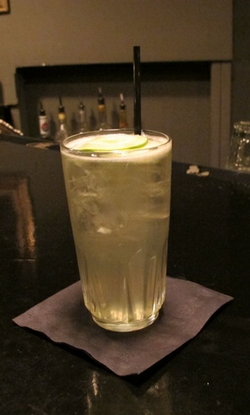 A few weekends ago, I plunked down on a stool at the Passenger, where the walls are unfinished concrete and the light fixtures are industrial and simple. The place sits on DC's Seventh Street, Northwest, a pioneer in this developing neighborhood. Behind the bar was Alex Bookless, a tall, hoodie-clad brunette with yellow thick-framed glasses and braided hair. She came across as quiet, but I engaged her, asking about her tattoo, a small Greek-key pattern—the one on paper placemats and coffee cups in Greek diners—that's branded her forearm. We discussed the mythology that inspired her ink, and then we transitioned into talking about Room 11, one of her favorite restaurants.
Bookless also has the confident handle on mixology that you'd expect from a bartender managing the Passenger, a DC cocktail mecca. It was one of the first bars in town where drinks were improvised after the barkeep asked a customer for his or her flavor preferences. I asked for "something interesting that would conjure the arrival of spring." While poring over bottles, making drinks for more decisive customers, she decided a gin-and-tonic riff would fit the bill perfectly.
"Isn't a gin and tonic a summer drink?" I asked, imagining front porches, hot sun, and a sparkling refresher. She just shrugged and went on mixing, pondering each addition from an assortment of bottles before her and slicing a thin medallion of cucumber for garnish. Maybe with cocktails, when compared with kitchens, seasonality is a more flexible constraint, I thought.
In my drink, there's gin—Hendrick's—but no tonic; somehow, it still resembles a gin-and-tonic's essence. The mixer is a blend of the Italian apertivo Cocchi Americano, grapefruit bitters, and soda water. The cucumber slice floating on the surface adds as much fragrance as flavor. The drink tastes sweet, bitter, and cooling all at once. It's a different kind of tonic: a reminder of the summer to come, and a cure for these early spring days when the cold weather doesn't seem to wither quickly enough.
Related:
Subscribe to Washingtonian
Follow Washingtonian on Twitter
Follow the Best Bites Bloggers on Twitter at twitter.com/bestbitesblog
More>> Best Bites Blog | Food & Dining | Restaurant Finder