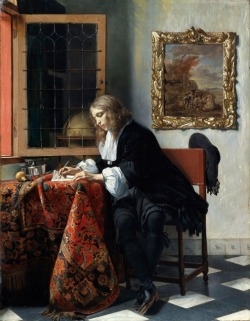 This month, a show opens at the National Portrait Gallery that required a little sleuthing. "Capital Portraits: Treasures From Washington Private Collections" runs through September 5, offering a glimpse at works that are rarely (if ever) seen by members of the public. Big names (Andy Warhol, Chuck Close, John Singer Sargent, Salvador Dalí) are on display, as well as smaller works of historical interest, such as a portrait of Alonzo J. Aden, one of the country's first African-American art dealers. Free. See the National Portrait Gallery's Web site for more details.
DC's Kreeger Museum hosts an intriguing exhibition of drawings by American pop artist Tom Wesselmann April 8 through July 30. Wesselmann is primarily famous for his collages, but "Tom Wesselmann Draws" offers some insight into his artistic process, including his attempts to expand drawing beyond pencil and paper with his large-scale, sculptural studies. $10. Visit the Kreeger's Web site for more information.
Opening April 10 in the National Gallery's East Building is "Gabriel Metsu 1629-1677," the first show in the U.S. ever solely dedicated to the Dutch genre painter. Presented in association with the Rijksmuseum in Amsterdam, the exhibition includes more than 30 works, depicting religious scenes, city landscapes, and portraits, and runs until July 24. Free. For more information, visit the National Gallery's Web site.
The annual Nature's Best Photography finalists go on display at the Museum of Natural History April 16 through September 25. Named after wildlife photographer Windland Smith Rice, the competition recognizes the best in nature photography, from both professionals and amateurs. Free. For more information, visit naturesbestphotograpy.com, or the Museum of Natural History's Web site.
"Directions: Grazia Toderi" opens at the Hirshhorn Museum April 21. Toderi, an Italian artist based in Milan, creates large-scale video installations from satellite, military, and night-surveillance footage, altered to "visualize the infinite." She compares her works, frequently recognized by the Venice Bienniale, to "frescoes of light." Free. See the Hirshhorn's Web site for more details.
Works by graduating students at the Corcoran College of Art + Design go on display in the main museum April 23 through May 22. The final-thesis projects—which include fine art, photography, and design—offer the chance to see pieces by a new class of emerging artists. Free. Visit the Corcoran's Web site for more information.
Subscribe to Washingtonian
Follow Washingtonian on Twitter
More>> After Hours Blog | Arts & Events | Happy Hour Finder | Calendar of Events