A law firm like Howrey—founded in Washington in 1956 and only three years ago the eighth-highest-grossing law firm in DC—doesn't go into a tailspin overnight. The situation has never been as bad as during the past year, with around 70 partners leaving the firm's US and international offices and profits per partner dropping to $550,000, compared with 2008, when the average Howrey partner took home $1.3 million. But warning signs that Howrey might be headed for trouble started years ago. Here's a look back.

2005 to early 2006: Washington rainmakers depart. Alan Fisch jumps to Kaye Scholer, Margaret Zwisler joins Latham & Watkins, and Karen Manos heads to Gibson, Dunn & Crutcher. On her way out, Manos publicly slams Howrey managing partner Robert Ruyak, telling the Legal Times that the firm is run "like a third-world country."
2007: Howrey misses its projected profits per partner by 5 percent, according to former firm vice chair Henry Bunsow, who recently left for Dewey & LeBoeuf. Bunsow says the slight shortfall wasn't enough "to get too excited about" but should have raised concerns.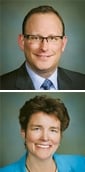 2008: While the rest of the legal industry spirals into a recession, Howrey posts a 29-percent revenue increase. But much of the boost is due to DC partner Alan Grimaldi's $76-million win in a case for Fifth Third Bank, which brings in a huge contingency payment for the partnership. Such wins inflate a firm's financials temporarily but don't reflect actual growth.
2009: Partners get a rude awakening as the firm comes in 30 percent short of projected profits per partner, which shrink from $1.3 million to $845,000.
2010: The partner exodus ramps up. Ruyak says the departures are all part of his plan to strategically trim practice areas. Several of the partners—such as Jeffrey Lenser and Helen Michael, who went to the firm now called Kilpatrick Town-send & Stockton—say this isn't true.
2011: Howrey and Chicago-based law firm Winston & Strawn enter merger discussions, but Winston makes offers to only three-fourths of Howrey's 200-plus remaining partners. As of mid-February, the firm's future was uncertain.
This article first appeared in the March 2011 issue of The Washingtonian.
Subscribe to Washingtonian
Follow Washingtonian on Twitter
More>> Capital Comment Blog | News & Politics | Party Photos