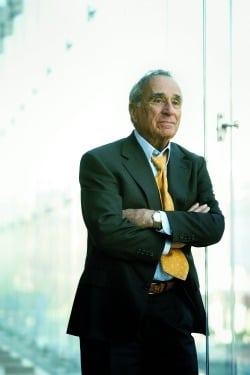 Sidney Harman, the Newsweek chairman, entrepreneur, and local arts patron died in Washington Tuesday night, according to a statement from his family released by the Daily Beast.
Sidney Harman died last night of complications from acute myeloid leukemia at the young age of almost 93. He first learned of his illness one month ago and remained vigorously engaged as Executive Chairman of Newsweek, and Chairman of the Academy for Polymathic Study at the University of Southern California. He died in Washington, D.C., a city he loved and supported in so many ways, surrounded by his wife and children. Funeral arrangements will be private. Celebrations of Sidney's extraordinary life will be held both in Washington and Los Angeles, at dates still to be determined.
The business world will no doubt remember Harman as the founder of the massive Harman Industries audio empire, while the media industry will never forget his gutsy $1 purchase of Newsweek from the Washington Post Company last year. But here in Washington, the city he famously adored, his name is practically synonymous with arts patronage, a lifelong effort that culminated in the opening of the Harman Center for the Arts, the Penn Quarter home of the Shakespeare Theatre Company, in 2007. That achievement led Harman to be named a Washingtonian of the Year in 2007.
Here's what we wrote about Harman shortly after the arts center opened:
Sidney Harman Hall opened in October. The dazzling new space and Shakespeare's Lansburgh Theatre now make up the Harman Center for the Arts.

Harman has given $19.5 million to make the new building possible—the last $5 million as a challenge grant that has been matched by other supporters.

Harman, a lover of jazz and classical music, also helped create partnerships between Shakespeare Theatre and other performing groups. The Washington Bach Consort, the Washington Performing Arts Society, and Ford's Theatre have already used the stages at the Lansburgh and the Harman.

For Sidney Harman, the bricks and mortar have surpassed his aspirations. "Its location is sublime," he says. "We'll have multinational, multicultural, and multilingual young audiences. They can get here a dozen different ways."

Harman is proud of the fact that there isn't a bad seat in the house that bears his name. But he'd rather not sit too close to the stage. "I like to sit back far enough to get the full view," he says. "When you're too close, you run the risk of losing the enchantment."
Harman's wife is Jane Harman, the former Democratic congresswoman from California.