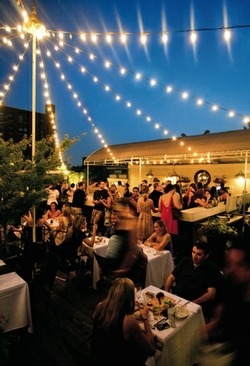 It's finally time to stake out a seat on a patio or roofdeck and watch the world go by with a cocktail in hand. Whether you're in it for the food or the drinks, we've got you covered. Did we miss your favorite outdoor spot? Let us know in the comments!
If you're in it for the food . . .
• American Ice Co.: We could really put this hipster hangout in either the food or drink categories, and the patio and its picnic tables are so great, it doesn't really matter what you're buying there. Even if you don't get a seat outside, the front garage door is rolled open on nice days so you'll get a breeze inside, too.
• Black's Bar and Kitchen: A reflecting pool gives a Zen-like serenity to the patio at this Bethesda bar and restaurant. That's a good thing because it's usually hopping. Boutique oysters shucked at the raw bar, smoky wood-grilled hanger steak with chimichurri sauce, and crispy fried chicken make for a menu with something for everyone.
• Bourbon Steak: One of our favorite hidden patios in the city is an offshoot of Michael Mina's high-rolling steakhouse in the Four Seasons. Lounge-y couches are clustered around fire pits, and you can graze on the bar menu, which is best for its burgers. Throwback cocktails like the absinthe-stoked Monkey Gland and the tiki-like Donga Punch are made with freshly squeezed juices and house-made bitters. Just like its surrounding restaurant and hotel, the quality of the drinks is high—and so are the prices.

See Also:
• Indique Heights: The spacious, prettily landscaped terrace offers views of the Friendship Heights neighborhood along with Indian-style street snacks, inventive cocktails, and lush curries.
• Jaleo: Bethesdians fill up the patio tables when the weather turns warm for chef José Andrés's signature tapas and tart-sweet red sangria. Pitchers ($28) are perfect for sharing alongside dishes such as chilled gazpacho and endive filled with fresh goat cheese and Marcona almonds that make you think summer has already arrived.
• L'Auberge Chez François: This Old World place feels as if it's plopped in the middle of French wine country, with grassy fields that anchor dramatic sunsets. The Alsatian-style Great Falls inn is known for such classics as coquilles St. Jacques, choucroute, and plum tart.
• Perry's: Founded in 1984, before Washington had even heard of Asian-fusion, this is an Adams Morgan sushi institution. The rooftop terrace, strung with lights, offers a sweeping view of the often-rowdy neighborhood. Weekday happy hours from 5:30 to 7:30 feature $5 small plates and $4 caipirinhas and Kirin Lights, among other drinks.
• Poste: There's an Old World European feel to the patio at Poste, starting with an arched carved-marble entryway from the 1840s. The outdoor space, framed by soaring limestone walls, is home to a collection of seed beds and potted plants. Bartenders use the herbs for infusing liqueurs and muddling into cocktails. Weekdays from 4 to 7, the courtyard is chockablock with young professionals looking for a bargain: Truffle fries, wine, and beer are $5.
• Standard: Logan Circle's newest hot spot is this narrow patio at 14th and S streets, Northwest—and for good reason. The barbecue can be great—we like the pulled pork and hulking beef rib—and the people watching is even better.
• Tabard Inn: We're big fans of the house-made pastas and ever-changing menu at this Dupont Circle restaurant that has a lovely antiquated charm. And on warm days, the enclosed patio feels like a secret garden.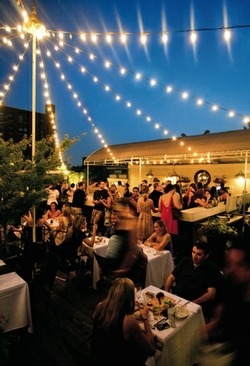 If you're in it for the drinks . . .
• Biergarten Haus: This H Street bar has a spacious year-round patio with an outside bar, occasional live music, and long communal hardwood tables. There are nearly 30 tongue-twisting German beers available in bottles and drafts. The pretzel rolls are an excellent drinking snack.
• Backyard Grill & Bar: Get through the crowds at the sports bar to the oasis that this watering hole is named for: a large, tree-lined back patio with umbrella tables perfect for sipping al fresco. The week-long happy hour from 11 to 7 will take you through sunset with $2 beer bottles and $2.50 domestic drafts such as Blue Moon and Sam Adams seasonals. Thursday goes even longer, with specials until 9.
• The Big Hunt: Sit at an umbrella-covered picnic table on the roof—you can fit up to ten people, which makes it great for a post-work gathering—and take advantage of one of the best happy-hour deals around: Everyday from 4 to 7, there are $2.50 Bud Light, Lite Ass brew, and Bad Ass Amber; and rail drinks are $3.
• Bourbon: Grab one of coveted tables on the outdoor front patio with friends,—or Glover Park-style with your dog and book. The extensive drinks menu has something for nearly everyone: $15 tasting flights of rye and bourbon for connoisseurs, inventive cocktails (try the Indian Summer with hot pepper and pineapple-infused vodka), and an impressive list of wine and beer. After one or two of your choosing, house-made tater tots and crab sliders are a must.
• Cantina Marina: Located on the Southwest DC waterfront, Cantina Marina is the kind of place Jimmy Buffett would like. Sunset views, barbecue shrimp, and cold Coronas keep its patio bar packed with a lively crowd in the warmer months. With yachts drifting down the channel and the Washington Monument in the distance, it's a tempting escape from the 9-to-5 grind.
• Cleveland Park Bar & Grill: It's nothing fancy, but for Cleveland Park residents, it doesn't get much better than this rooftop deck, where there are views of the Uptown Theater and Connecticut Avenue. From 5 to 7, there are $3 Miller Lite drafts, Yuengling, and rail drinks as well as $4 house wines.
• Donovan House: Donovan House's rooftop bar is modeled after A60 at 60 Thompson in New York and ABH at Thompson Beverly Hills. Above D.C.—or ADC if you're into that whole brevity thing—boasts a bar and a heated pool surrounded by chaise lounges. A fireplace, Brazilian Ipe decking, and Cherry Blossom trees round out this warm and inviting atmosphere.The views of the city's skyline alone are worth the trip up to the top.
• Eighteenth Street Lounge: First-time visitors to this Dupont Circle spot usually look confused as to why the bar is empty. The answer? Head through an unmarked door at the back and you'll find big crowds on the back terrace. Happy hour brings free mezze, $5 drink specials, and $20 bottles of wine, so the patio gets crowded quickly, but seats are usually available around opening time (5:30).
• Hudson: This whimsical American restaurant in DC's West End isn't on the most exciting block in the city, but that's not necessarily a bad thing, because it means you can usually find a table on the pretty, expansive patio at peak times (after work, weekend nights). Weekdays from 4 to 7:30 you'll find $5 beers, $6 cocktails, and $29 pitchers of margaritas.
• Indigo Landing: There are great waterfront views at this Alexandria bar and restaurant. It sits on Daingerfield Island, adjacent to the Washington Marina, and diners on the 100-seat outdoor deck watch boats set sail on the Potomac.
• Madam's Organ: You'll have to climb up three stories to access this rooftop dive bar, but the hike is worth it. Unlike many other al fresco Adams Morgan spots, the crowd is mostly regulars and the vibe is laid-back. Groups fill the long wooden tables for the two-for-one happy-hour special from 5 to 8, and you can post up at the bar for no-frills sips while looking out on city views. An added bonus: Once the sun goes down, you can join the group dancing to live jazz and blues downstairs.
• Marvin: The cool kid of the U Street bar scene, this bar offers a lengthy list of Belgian beers and serves up crowd-pleasing dishes such as chicken and waffles. The spacious outside deck is the closest you'll come to experiencing a Brooklyn rooftop party in DC.
• Nellie's: One of our favorite U Street spots is this gay sports bar, where the second-floor deck looks over the 9:30 Club and up to Columbia Heights. We love the Beat the Clock happy hour: from 5 to 6, all bottles, Miller Lite, and house vodka drinks are just $1, and the prices goes up by $1 every hour. That's just dangerous.
• Nick's Riverside Grill: The best thing about this restaurant and bar in Georgetown is its location. The outdoor patio spills onto Washington Harbour's boardwalk and is a great place to watch the boat and bike traffic. Grab a spot—and an ice-cold beer—under one of the bright-blue umbrellas and watch the sun go down.
• POV Roof Terrace and Lounge: The W Hotel's rooftop bar has panoramic views of DC and beyond. At $15, cocktails aren't cheap, but you can sip slowly while lounging on a velvet banquette.
• The Reef: While the jungle decor and fish tanks on the first and second floors of this Adams Morgan bar can seem a bit like Disney World for big kids, the popular hangout has at least one feature everyone can get behind: the year-round roof deck.
• Stetson's: The back patio at this U Street dive is a nice escape from the sticky tables and spilled Bud inside the narrow bar. Not that there's much difference beyond the open air—it's a small, fenced-in space and on weekends it gets plenty crowded.
• Tia Queta (4839 Del Ray Ave., Bethesda; 301-654-4443): Relive a trip to Mexico on this Bethesda rooftop. The space is partially covered—good for rainy evenings—but catches a refreshing breeze. Order a pitcher of the house margarita and enjoy bottomless chips and salsa.
• Trusty's Full-Serve Bar: This truck-stop-themed bar on Capitol Hill has a second-floor deck with a half-dozen umbrella-covered tables. There's not much of a view because the space is enclosed—picture it as a room without a ceiling–but there's plenty of fresh air to go around. A crowd of hip, young neighborhood residents will lounge here for hours over rounds of canned beer or drafts served in Mason jars.
• Whitlow's on Wilson: It's opening day for the brand new rooftop at Whitlow's, a popular watering hole for Arlington young professionals. You can start drinking outside at 4 PM today.
• Wonderland Ballroom: With long communal tables and trees wrapped in twinkly white Christmas lights, the front patio at Columbia Heights' favorite neighborhood hangout is as laid-back as they come—and a pet-friendly door policy means Fido can come with.
Subscribe to Washingtonian
Follow Washingtonian on Twitter
Follow the Best Bites Bloggers on Twitter at twitter.com/bestbitesblog
More>> Best Bites Blog | Food & Dining | Restaurant Finder