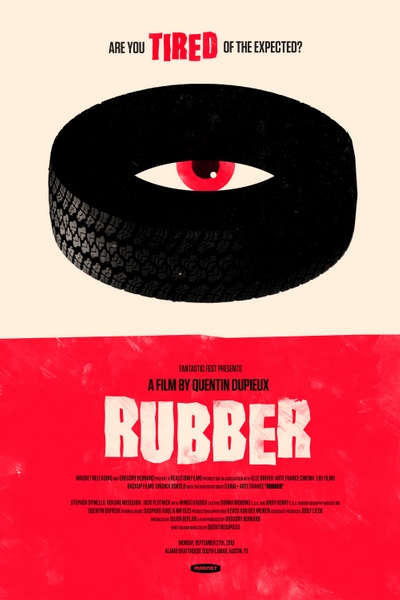 Director and playwright Neil LaBute once said that "everyone has a story." We've always accepted this basic tenet of filmmaking, but to anthropomorphize a rubber car tire is one level of fantasy that we never imagined possible. You can witness Quentin Dupieux's crazy vision of a homicidal wheel covering at Landmark E Street this week, along with movies about music, grief, theater, and even royal weddings.
Tuesday, April 19
Catch I Will Follow at West End Cinema tonight. The film by Ava DuVernay depicts 24 hours in the life of a woman, Maye (Salli Richardson-Whitfield), who's dealing with the death of her aunt, Amanda (Beverly Todd). Roger Ebert described the film, which also features Omari Hardwick, Dijon Talton, and Blair Underwood in supporting roles, as an "invitation to empathy." Tickets ($11) are available at West End Cinema's Web site.
Wednesday, April 20
French Cinematheque presents My Afternoons With Margueritte at the Avalon Theatre tonight. Gerard Depardieu plays Germain, an illiterate fiftysomething in a small French village whose life is transformed when he meets the elderly Margueritte (Gisèle Casadesus), a woman with a passion for reading. Tickets ($11) are available at the Avalon's Web site.
Thursday, April 21
"A sentient car tire on a killing spree" is how the Washington Post's Michael O'Sullivan described Rubber, playing at Landmark E Street this week. The subversive horror/comedy tells the story of Robert, an abandoned tire who suddenly comes to life and realizes he has the power of telekinesis (this being a horror flick, he naturally uses that power for evil). The movie made waves at Cannes last year and is directed by Quentin Dupieux, a.k.a. musician Mr. Oizo. Tickets ($10) are available at Landmark's Web site.
Friday, April 22
Writer Mark Goffman (White Collar, The West Wing) makes his directorial debut at Landmark E Street with Dumbstruck, a documentary about the weird and wonderful world of ventriloquism. Among the five "vents" Goffman follows are Kim, a former beauty queen; Dan, a cruise-ship performer; and Dylan, a 13-year-old hoping to turn pro. Goffman and his wife, producer Lindsay Goffman, appear in person tonight and tomorrow for Q&As. Tickets ($10) are available at Landmark's Web site.
Also opening tonight at West End Cinema is Making the Boys, Crayton Robey's look at the 1968 New York play The Boys in the Band, which helped precipitate the gay-rights movement. The film was called a "fascinating recent history and a fascinating personal story" by the New York Times. Tickets ($11) are available at West End Cinema's Web site.
Saturday, April 23
Today in the East Building Auditorium, the National Gallery presents The Black Maria, screening selections from the annual festival competition in New Jersey. Seventeen experimental shorts and documentaries are included in the program, including works by Joanna Priestley, Alla Kovgan, and Marta Renzi. Free. For more information, visit the National Gallery of Art's Web site.
Sunday, April 24
Boss fans look lively—The Promise: The Making of Darkness on the Edge of Town screens today at the West End Cinema, offering 85 minutes of unseen footage depicting Bruce Springsteen and the E Street Band as they recorded the title's seminal 1978 album. Fifty percent of the proceeds go to the Impact Arts + Film Fund. Tickets ($11) are available at West End Cinema's Web site.
Monday, April 25
Long before Will and Kate came on the scene, Royal Wedding was a 1951 musical starring Fred Astaire and Jane Powell as a brother-sister dance team caught up in the 1947 marriage of Princess Elizabeth and Prince Phillip. One of the movie's most famous sequences, "You're All the World to Me," features Astaire dancing on the walls and ceiling of his bedroom, in an example of what was then cutting-edge technology. Royal Wedding is at AFI Silver Theatre tonight; tickets ($11) are available at the cinema's Web site.
Subscribe to Washingtonian
Follow Washingtonian on Twitter
More>> After Hours Blog | Arts & Events | Happy Hour Finder | Calendar of Events