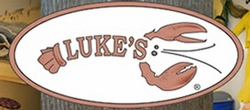 Move over, crabcake. Lobster rolls are encroaching on your territory. Washington has seen an influx of the New England sandwich in the last year or so, and there's about to be another player in town.
Last night, New York-based Luke's Lobster co-owners Ben Conniff and Luke Holden signed a lease and secured permits for a 700-square-foot space at 624 E Street, Northwest, in DC's Penn Quarter. They hope to open by the end of May.
The menu will be a carbon copy of the one at the three locations in New York City, which in addition to a lobster roll, includes New England clam chowder and lobster bisque from the Maine-based company Hurricane's Soups, Maine Root soda, and Empress crab claws.
As for the anatomy of the Luke's lobster roll, it's a unique formula that includes both mayo and butter. A New England-style top-split bun, warmed on a griddle, gets a swipe of mayo inside ("but not mixed with the lobster," Conniff was quick to point out). The bun is stuffed with a 1/4 pound of chilled lobster meat, and a warm lemon butter is poured over the top. Last comes a shake of Luke's "secret seasoning" (the New York Times called it "celery salt" and said the meat is "fat and pure").
Lobster rolls will be $15, and an extra $2 buys chips, a soda, and a pickle.
Holden, 27, is from Maine but lived in Washington for four years as a Georgetown University student, where he studied finance. He was an investment banker for a short time before opening his lobster business. Luke's brother, 24-year-old Bryan, has been living in DC for the last two years and will run the show here.
Conniff says that for Luke's Lobster, "the most important thing is sustainability. The lobster fishery in Maine [where Luke's lobster is sourced from] is one of the most sustainable fisheries in the world. We will be able to identify which harbor each shipment comes in from."
While Holden and Conniff were scouting spaces in DC, Conniff says they tried lots of lobster rolls—"a bulk of what's available," although he wouldn't name specifics. "I don't have anything negative to say about any of them. But I think given the freshness and quality of our lobster, we have a leg up over anyone else in the city."
Subscribe to Washingtonian
Follow Washingtonian on Twitter
Follow the Best Bites Bloggers on Twitter at twitter.com/bestbitesblog
More>> Best Bites Blog | Food & Dining | Restaurant Finder