For every holiday, my mother has a signature dish. At Thanksgiving it's her sinful mashed potatoes; Rosh Hashanah has to include honey-infused challah. And the Passover meal isn't complete without matzo candy, brittle-like shards of the unleavened cracker covered in chocolate, caramel, and walnuts. Her best guess as to the origin of the recipe: A friend passed it along 20 years ago. I just think of it as my mom's. (Recipe after the jump.)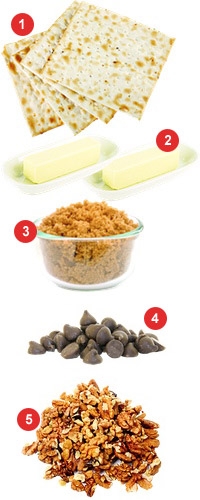 1. 3 sheets of plain (not egg or wheat) matzo
2. 2 sticks margarine (not butter)
3. 1 cup brown sugar
4. 1 12-ounce bag semisweet chocolate chips
5. Chopped walnuts to taste
Preheat the oven to 400 degrees.
Line a cookie sheet with foil. Cover it entirely with the sheets of matzo; break some into smaller pieces to fill in any gaps.
In a medium saucepan set over medium heat, bring the margarine and brown sugar to a boil and boil for 3 minutes.
Working quickly, pour the caramel over the matzo, spreading it evenly. Place in the oven and bake for exactly 4 minutes.
Remove from the oven and quickly pour the chocolate chips over the caramel, spreading the chocolate with a spatula as it melts.
Sprinkle with walnuts. Place in the refrigerator until cool, at least four hours, preferably overnight.
While it's cold, break it into pieces as you would peanut brittle. Serve cool or at room temperature.
This article appears in the April 2011 issue of The Washingtonian.
Subscribe to Washingtonian
Follow Washingtonian on Twitter
Follow the Best Bites Bloggers on Twitter at twitter.com/bestbitesblog
More>> Best Bites Blog | Food & Dining | Restaurant Finder