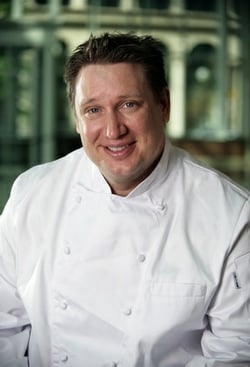 Is it a measure of supreme confidence or extreme naiveté that Rogue 24, the hotly awaited tasting-menu restaurant from chef R.J. Cooper, would choose to make its formal debut in New York, in a series of preview dinners that began last night at Limited Time Only?
One meal is hardly definitive, but based on the intermittently delicious evidence, I'm tempted to say the latter.
Even New York theater companies leave town to preview their productions, opening in Cincinnati or Memphis, where, in relative secrecy, they can tweak or overhaul the production before exposing it to the scrutinizing eye of jaded New Yorkers, the toughest audience in the country.
Cooper clearly believed that his restaurant, slated to open in DC's Blagden Alley (between M and N and Ninth and Tenth sts., NW) in May, was ready for prime time. Buoyed by a recent appearance on Iron Chef, he seized upon the opportunity to put out LTO's first dinner. LTO is what's known as a pop-up, a temporary installation with rotating concepts and chefs. Manhattan is awash in them at the moment, as the insurgency that resulted in gourmet food trucks takes its next logical step.
Rogue 24 is a pet project of Cooper's, years in the making. It grew out of the tasting menu he introduced to great success at Vidalia, where he cooked previously, winning a James Beard Award in 2007 as the best chef in the Mid-Atlantic.
Last night, the low-lit, single-level space—adjacent to the historic headquarters of the famed Yiddish newspaper the Forward, on a block of East Broadway that houses a funky pre-Prohibition era bar, a corner Chinese joint with roasted ducks hanging by their feet, a Ling Liang evangelistic mission, a juice bar, and an art gallery—buzzed like a theater company on opening night. In this case, a decidedly downtown theater. The scene reeked of Lower Manhattan. The soundtrack segued from Kid Creole and the Coconuts to loping techno, the sommelier flashed a garish flamingo tie, and the young, fascinatingly coiffed crowd of flush foodies took slow bites and earnestly compared notes about texture.
At $100 for 16 courses or $125 for 24—$160 or $180 including wine pairings—flushness was an imperative. Some of the swells never made it through to 16 or 24, bailing in frustration as the kitchen got backed up and the staff struggled with pacing. They did, however, get to sample Gina Chersevani's (PS 7's) handiwork at the bar. A cocktail made with three ryes and sweet tea—Bill of Rye's—was excellent.
The night is designed to unspool as a leisurely procession of small courses, some no more than a bite or two, with attendant over-explication by a server and more resetting of utensils than costume changes at a Lady Gaga concert (most memorably, tweezers the size of screwdrivers, which functioned as foolproof chopsticks).
The immediate reference point is José Andrés's Minibar, which at its best makes the dinner-as-theater notion of two dozen small, bejeweled plates seem not just effortless but natural—the inevitable destination for creative, ambitious chefs.
Last night was neither natural nor effortless.
Amuse-bouche-size dishes are like flash fiction; for all their subtlety and nuance, the mission is to shock—to jolt the taste buds. It wasn't until the sixth course, a smoked Rappahannock oyster, that we got our first jolt—everything up to that point had been interestingly assembled, imaginatively presented but oddly muted. A dish of Catalina sea urchin was the most disappointing. The shimmering orange lobe came nestled in a sort of Funion, if Funions were black and three times the size. The server called it "squid toast"—toast soaked in black squid ink and then dried until crunchy. The accent notes? A slice of lard and a sauce of Clamato (tomato juice plus clam broth). This was the gastronomical equivalent of a triple axel in figure skating—a dish with a high degree of difficulty and the promise of something enduringly memorable hanging in the balance. But after all that, it added up to something that was just odd—and brackish.
Menus like this need to impart a clear sense of narrative, like a novel whose chapters reveal intriguing twists and turns while also adhering to an internal logic. But certain juxtapositions were simply jarring, such as a segue from a sushi roll of conger eel to a dish of pain perdu with maple-glazed bacon and a maple-caramel sauce.
The latter dish was among the best of the night; it was also a prime example of the sort of dish that's gratifying to chefs: intricate in the extreme, with multiple contrasts of texture and temperature—but bewildering to most diners, even serious ones. Is it necessary to work so hard and so long on a dish that tastes almost exactly like what you'd get at a good diner?
Two of the final dishes underscored the lesson of the oyster. All those complicated details had better add up to a simple, memorable taste. A house-made sheep's-milk ricotta on toast, with just a tiny drizzle of olive oil, was nearly sublime (it could've used more oil and a couple more pinches of salt), while a tiny cylinder of chocolate mousse with crunchy bites of Muscovado sugar was just about perfect—the flavors bold and coherent, every component immaculately executed.
One of the most fascinating parts of a meal like this is also one of the most frustrating—the fact that you're constantly being teased, that you're never allowed to settle into any rhythm or zone. You like a dish, and it's gone in two bites. You're seduced by a flavor or a texture and want to stay with it for a while, but nope—something wildly different replaces it. It's tantric dining, the chef as control freak. He's not interested in gratifying you in the conventional bourgeois sense that we've come to expect of dining out, he wants to blow your mind with the taste that comes next.
When it works, you submit willingly and believe you've had an unforgettable "experience." When it doesn't, as was the case last night, you feel you've just walked out of a not-ready-for-prime-time theater piece. Interesting but perplexing and, in the end, vaguely disappointing.
Subscribe to Washingtonian
Follow Washingtonian on Twitter
Follow the Best Bites Bloggers on Twitter at twitter.com/bestbitesblog
More>> Best Bites Blog | Food & Dining | Restaurant Finder