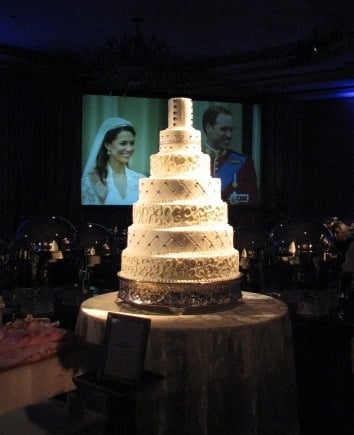 Hundreds of guests piled into the Ritz-Carlton, Washington, DC's porte-cochère at the ungodly hour of 5 AM. A large team of smiling greeters waiting to escort them inside. They headed to the ballroom lobby, where a harpist sat strumming amid 12 glowing candles, and there were four wedding gowns on display inside. Finally, guests entered the purple glow of a reception room filled with tall flowers and a seven-tier bejeweled wedding cake. It was enough special attention to warm the heart of even the staunchest Royal Wedding pessimist.
Such were the proceedings of the hotel's Royal Wedding Viewing Party, where 250 giddy Washingtonians gathered to share some small part in the festivities across the pond, the "day of hope" for the British monarchy. The Ritz, with help from luxury vendors such as Entertainment Exchange and Capital Decor and Events, sold $40 tickets that included a traditional English-breakfast buffet, access to BBC's live wedding-day coverage on two 60-inch TVs—along with a scattering of smaller flat screens—and a parting gift from Tiny Jewel Box. Out of the 250 guests, 21 bought the $429 package that allowed them to spend last night at the hotel.
The mood in the room was certainly one of excitement, but the crowd wasn't as over-the-top Kate Middleton-crazed as you might have guessed. It was perhaps something like being Irish on St. Patrick's Day; these folks wanted to feel just a bit British today.
"It's such a fun event," says attendee Jamie Bell. "It's like a piece of a fairy tale that Americans can be a part of." For Bell, who stood with two friends admiring the wedding dresses, the fact that Kate came from a common background made her more relatable to an American audience.
Throughout the televised ceremony, the hotel's ballroom was abuzz with chatter and eager anticipation. When Catherine emerged from her car in front of Westminster Abbey, the crowd drew a collective breath and then started clapping and cheering as if they were right there on the streets in London.
Back at the Ritz, feathery hats and fascinators topped nearly every head, along with a few tiaras and even a king's crown. Coffee flowed freely all morning, as attendees steadfastly attempted not to be affected by the early hour. But as the start of the work day crept closer, energy levels began to wane. Guests shuffled out of the ballroom shortly before 9, gift bags in hand, many with a full eight hours at the office ahead. For most of these Anglophiles, though, it was all worth it.
"I found out the Ritz-Carlton was doing a party and I thought 'I must be here,' " says Wendy Battaglino.
Subscribe to Washingtonian
Follow Washingtonian on Twitter
More>> After Hours Blog | Arts & Events | Happy Hour Finder | Calendar of Events