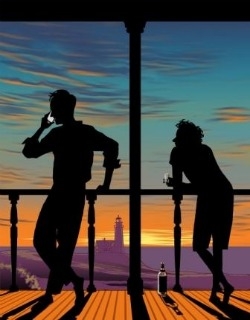 New York playwright Sam Forman hit it big in Washington last year with The Rise and Fall of Annie Hall. The Theater J production got rave reviews and a Helen Hayes Award nomination.
Now Forman is back with The Moscows of Nantucket, a fish-out-of-water play about a Jewish family spending the summer in the WASP wonderland of Nantucket. Remember, Nantucket is the island off Massachusetts where presidential candidate John Kerry destroyed any chance he had of projecting a good-ol'-boy image when he was photographed windsurfing a stone's throw from his island mansion.
In Forman's play, the Moscow parents have retired to Nantucket for the summer months. Richard Moscow was a workaholic financier. Now he has nothing to do but look at his BlackBerry and try to connect with his adult children. His wife was an antiques dealer and has unleashed her decorating skills on their summer home. In her spare time, she manages the lives of her sons.
Those sons arrive in Nantucket for a long weekend. The older one has brought his girlfriend, a Hollywood star who grew up in a trailer park in Georgia—a goldfish swimming in a sea of gefilte. "There's love and guilt and plenty of conflict," Forman says.
Forman's own Jewish parents spend six months of the year on Nantucket. But the play isn't autobiographical: "My family knows which parts were inspired by real life, but for every one thing from actual experience, there are ten from imagination. Parts of me have come out in all the characters in surprising ways. That's what playwriting has been for me. You look at a situation from different points of view and put yourself inside other characters."
While the idea of placing a family together in one house is a modern take on Chekhov, Forman was really channeling Woody Allen and Edward Albee with The Moscows of Nantucket. "It has Allen's neurotic urban sensibility and the knock-down, drag-out secrets coming out of Albee's Who's Afraid of Virginia Woolf?," as Forman puts it.
Forman has a bachelor's degree in performance studies from Northwestern and an MFA in playwriting from Columbia University. He has racked up writing credits as a lyricist, a scriptwriter for musicals, and a TV writer. He wrote the book for a rock musical called F#@king Up Everything, which will be at Woolly Mammoth Theatre Company this summer.
The Moscows is Forman's second play produced by DC's Theater J. Washington audiences are different than New York audiences, Forman says. "In Washington, they're a little less concerned with what's cool and what's hip and just want to see something good. Which is one of the reasons I love working in DC so much. Audiences don't have like a mob-like mentality. They don't need the New York Times to tell them what's good and what's not."

The Moscows of Nantucket opens at Theater J May 11.Tickets ($15 to $60) are available at Theater J's Web site.
Subscribe to Washingtonian
Follow Washingtonian on Twitter
More>> After Hours Blog | Arts & Events | Happy Hour Finder | Calendar of Events