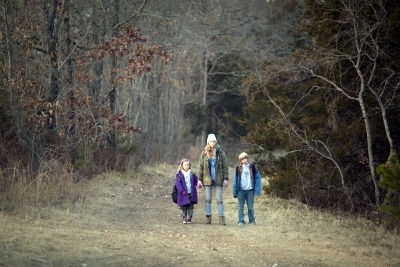 Film Forward, a joint initiative between the Sundance Institute and the President's Committee on the Arts and Humanities, has spent the last few months taking a series of ten independent films around the world, with screenings in locations as diverse Nashville, Tunisia, and China. Tonight, all ten filmmakers come to Washington, presenting their features at a series of venues around the National Mall.
"These films enhance cross-cultural understanding, and help us to embrace a shared humanity," says Film Forward's Keri Putnam. "What we were looking for was artistic excellence, diversity of point of view, and the ability to ignite curiosity and provoke dialogue." The project's most successful feature, Winter's Bone, explores the story of a teenager in the Ozarks searching for her missing father, and was nominated for four Academy Awards, including Best Picture. The movie screens at 6:30 at the Museum of Natural History's Baird Auditorium, with director Debra Granik in attendance; tickets for all the movies ($10) are available at the Smithsonian Resident Associate Program's Web site.
Also being presented tonight is Palestinian-American director Cherien Dabis' feature Amreeka. Dabis' own experiences growing up in the US post-9/11 inspired the events of the movie, which she describes as personal. "I became a filmmaker in order to engage," she says. "At the screenings we had in Turkey and Tunisia, people kept coming up to me and saying, 'You're telling my story.' And the beautiful thing for me is that they do go on and tell me their story." Amreeka premiered at the Sundance Festival in 2009 to critical acclaim; it plays tonight at the Museum of American History, with Dabis and actress/President's Committee-member Kerry Washington in attendance.
According to the National Endowment for the Arts' Alyce Myatt, what makes Film Forward so unique is the chance to engage with other cultures while learning from the filmmakers themselves. "When you have a filmmaker present during the screening, and they can share their motivation, their themes with an audience, it can provide a deeper, more thoughtful experience," says Myatt. Other directors in town tonight include Stanley Nelson, whose documentary Freedom Riders plays at the National Archives at 6 PM; and Peter Bratt, whose movie, La Mission (starring Benjamin Bratt as a strict Latino father in San Francisco's Mission district) is at the American Art Museum's McEvoy Auditorium at 6 PM. For a full list of movies and tickets, visit residentassociates.org.
Subscribe to Washingtonian
Follow Washingtonian on Twitter
More>> After Hours Blog | Arts & Events | Happy Hour Finder | Calendar of Events