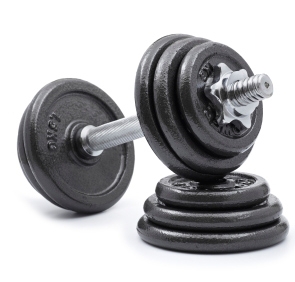 Abdul-Karim al-Jabbar
202-277-3929
karim@trainingwithkarim.com
The 1997 NFL leader in touchdowns for the Miami Dolphins, he heads the training program at the Sports Club/L.A. in DC's West End.
"The calories you don't plan on burning make a big difference. You can go to the gym and burn 500 calories, but then if you stop walking to lunch or the Metro—because you feel like you've already put in time at the gym—you can come up with a zero balance."
Private sessions at the Sports Club/L.A. start at $125; gym membership isn't required, but there is a guest fee.
Laurent Amzallag
301-367-3234
lamzallag@msn.com
A former trainer for Oprah Winfrey's Live Your Best Life tour and the President's Council on Fitness, Sports & Nutrition, Amzallag has been regularly featured on WUSA Channel 9.
"Start in a squat, then jump in the air with your arms up. As you land, go down on the floor and do a pushup. Then start again and do as many as you can. This one exercise works your legs, butt, and core."
Amzallag teaches workout classes at the Sports Club/L.A. in DC's West End and trains at Balance Gym in Georgetown. Hourlong private sessions cost $100 to $150.
Yaz Boyum
202-210-0638
yaz@yazinc.com
A former bodybuilding champion, she was named by Men's Journal as one of the country's top 100 trainers.
"If you're looking to bulk up, structure a weight-training program that splits the muscle groups up on different days. Give each body part at least two days of rest."
Boyum offers training at Definitions gym in Georgetown for $130 an hour and in-home sessions from $225 an hour.
Pari Bradlee
703-505-8396
parywilliamson@yahoo.com
A personal trainer and yoga teacher with 13 years' experience, Bradlee does house calls for higher-ups in media, politics, and entertainment.
"You have to do strength training at least twice a week. People forget that resistance training is what shapes your body—the more muscle you have, the more calories you burn."
Bradlee charges $150 to $200 an hour.
Lance Breger
202-328-6481
lbreger@mintconditionyourself.com
As the head trainer at Mint, a health club in DC, Breger has a clientele that includes TV personalities. He's president of Infinity Wellness Foundation, a DC-based childhood-obesity nonprofit.
"Never use the same cardio machine two workouts in a row. It keeps the body from adapting to new exercises."
Breger offers training sessions at Mint's Dupont Circle location—membership isn't required—for $103 for 50 minutes and $63 for 25 minutes.
Elizabeth Brooks
202-399-3160
elizabethbrookslive.com
With more than 20 years' experience, she specializes in helping seniors and people with injuries.
"Every time the season changes, your workout should change. A winter workout might be about getting stronger, then—boom—spring comes and you're trying to shed fat with interval training. If you're doing the same thing over and over, you're not developing other strengths."
Hourlong sessions at Brooks's training studio in DC's Atlas District cost $75 to $90.
Tom Brose
202-841-6217
tombrose@crossfit.com
He has a following—from rugby players to top execs—who swear by his aggressive training methods.
"In a perfect squat, the thigh has to be in the same line as the foot. Maintain the arch in the lower back—you don't want the shoulders and back rounded or the tailbone tucking under. You should feel it in the lower back before your legs get tired."
Hourlong sessions at City Fitness in DC's Cleveland Park and CrossFit DC in Dupont Circle cost $75 to $90.
Margo Carper
202-329-5569
margocarper@mac.com
She's personal trainer to a long list of Washington elite, from Madeleine Albright to Ben Bradlee.
"I'm a believer in being present—really focused at every minute. If you dread your workout, put everything out of your mind and just be in your body. I guarantee the hour will fly and you will feel better."
Private sessions at Definitions gym and the Four Seasons Hotel, both in Georgetown, cost $100 to $120 for 50 minutes or $60 to $70 for 30 minutes.
Elie Cossa
202-537-0539
eliecossa@verizon.net
A trainer since 1993, Cossa specializes in helping people with special needs, from breast cancer to disabilities and injuries.
"The most important thing is posture. Stand against the wall and work on opening the shoulders—taking the head back, getting into proper posture—then try to keep it throughout your workout. Your tailbone, shoulder blades, and head should be back; then draw your abs in."
Cossa offers sessions at City Fitness in DC's Cleveland Park for $55 to $80 an hour.
Mark Jenkins
202-787-6101
markjenkinsinfitness@gmail.com
He's known for whipping hip-hop royalty into shape—clients have included Beyoncé, Mary J. Blige, and Sean "P. Diddy" Combs.
"I'm really big on jump-roping. Five minutes is equivalent to 1 ½ to 2 miles of running."
Private, hourlong sessions at the Mandarin Oriental in Southwest DC cost $220 and include use of the sauna.
John Philbin
jcphilbin@aol.com

A 35-year veteran of the fitness industry, Philbin is strength-and-conditioning coach for the Nationals.
"For a perfect weightlifting rep, go through a full range of motion with minimum momentum. Control the weight in the positive phase, when the muscles contract. When you get to the end of the contraction, pause and squeeze for a half second to a second. On the way back, you want to move even slower, taking three to four seconds. If you do this correctly, you only have to do one set of 10 to 14 reps."
Hourlong sessions at Champion's Athletic Performance Center in Rockville cost $75.
Jonathan Ross
301-367-6843
jonathan@aionfitness.com
He's spokesman for the Americ
an Council on Exercise and was named one of the country's top 100 trainers by Men's Journal in 2004 and 2005.
"Fitness is not an all-or-nothing proposition. If you're trying to do 30 minutes of exercise but only have time to do 25 minutes, you still get benefits. Everybody has enough time to give their body a challenge. It comes down to whether you want to be busy and fit or busy and unfit."
Training at Sport Fit in Bowie costs $100 to $200 an hour for members, $110 to $130 for nonmembers; house calls are $125 an hour.
Colin Shah
202-746-4175
colinshah@mac.com
He trains White House officials and other VIPs and competes nationally in triathlons.
"Doing races is really good motivation, whether it's a 5K or a half marathon. Some people work out just because they think they should. You've always got to keep a goal in mind; so often, people start full bore and then lose focus."
Rates vary for home sessions. He also offers online coaching.
Aaron Sterling
202-462-8242
His gym doesn't have a Web site or even a number on the building, but it still draws socialites and high-level government officials. New York Times writer Frank Bruni described training with Sterling in his recent memoir, Born Round.
"Using a Bosu ball [stability half ball] is a great way to add intensity and core strengthening to your workout. With the platform side up, balance on one foot, making sure the surface area of the ball remains flat. You then can perform any number of strength-training exercises such as bicep curls or shoulder presses."
Training at Sterling's gym in DC's Adams Morgan costs $95 per session.
Thomas Tomlo Jr.
202-329-2239
ttomlo@humandevelopmentsystems.com
He has trained the Bush twins and Condoleezza Rice and is fitness adviser to the Susan G. Komen Race for the Cure. Tomlo was named to the 2010 Personal Fitness Professional's Top Ten Trainers of the Year.
"The average person needs a minimum of 35 minutes of cardiovascular activity a day, five days a week, to maintain general health. That's bare minimum. It takes a lot of work to be healthy."
Hourlong sessions in Pentagon City and Shirlington cost $75 to $85.
Jake Westhoff
571-437-6199
jake@fitness-university.com
He works out lots of Washington VIPs and assists at training camps for the New York Jets.
"Push yourself as hard as you can on cardio. If you can get your heart rate up to 80 percent of your max heart rate and sustain it for at least 15 to 20 minutes, that's going to be a very strenuous workout. Use a heart-rate monitor or just check your pulse on your wrist."
Sessions cost $125 an hour in your home or $100 at Balance Gym in DC's Kalorama.