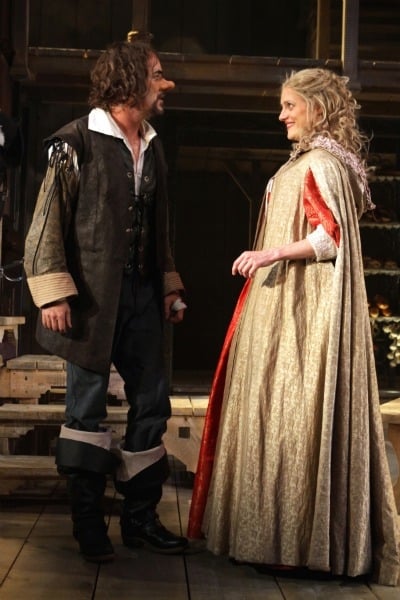 *** stars out of four
What's in a nose? Would an appendage of any other kind have provided us with a hero such as Cyrano de Bergerac? Psychologically, he's a fascinating study: quixotic, violent, loyal, and prone to furious rages. He has the soul of a born romantic but is also hell-bent on self-defeat at every turn. In Cyrano, Michael Hollinger's new translation of Edmond Rostand's 1897 play—currently at Folger Theatre—the eponymous hero is as magnetic and touchy as ever in a courtly, dramatic production directed by Aaron Posner. And yes, his nose is still gargantuan.
In an era accustomed to psychoanalysis and rhinoplasty, it's impossible not to profile Cyrano, a man whose nose has (presumably) both made him and messed him up. He's so sensitive about the size of his schnoz that a mere sideways look can drive him into an apoplectic rage; he's a ruthless, fearsome swordsman, capable of felling 100 opponents at the same time. His prowess isn't just in physical fighting; he can reduce men to tears with his extravagant wordplay. Eric Hissom's Cyrano is so charismatic and believably complex that he's a convincing romantic hero, but so damaged that he's almost certainly doomed to remain alone.
In Hollinger's adaptation, the main elements of the story remain: Cyrano, a soldier in the Gascony guard, is in love with his second cousin, Roxane (Brenda Withers), a wealthy orphan under the careful watch of a nurse (Todd Scofield, who doubles as the actor Montfleury). Cyrano believes that Roxane will never be able to see beyond the end of his nose, so when she falls for a dashing but dumb soldier, Christian (Bobby Moreno), Cyrano helps Christian woo Roxane's heart by composing letters to her, satisfying her criteria for looks and brains. Naturally, this arrangement can't last, so when another of Roxane's suitors, De Guiche, witnesses Christian visiting her late at night, he orders the Gascony guard away to war out of spite.
Posner's direction starts well: A scene set at the theater is vibrant and fast-paced, introducing the characters while allowing them to entertain us. But the first half of the play begins to drag midway through, and the second half is so short that it barely has time to get going. It's hard to understand why the director incorporated four acts into one half of the play before ending with the fifth­—it doesn't make for a cohesive performance. And it's a shame, because the production has a stellar ensemble cast, innovative staging, and an entertaining script (if one that could have used a little pruning).
Hissom carries the show as Cyrano, combining forlorn tragedy and heartache with brazen panache, a quality the character prizes until the very end. Withers is charming and convincingly naive as Roxane, while Moreno is likable enough as the meatheaded Christian. But a character who's "so much larger than life that he's practically fictional" deserves better timing, especially because his own is so impeccable.
"Cyrano" runs at the Folger Theatre through June 12; tickets ($30 to $60) available at the Folger's Web site.
Subscribe to Washingtonian
Follow Washingtonian on Twitter
More>> After Hours Blog | Arts & Events | Happy Hour Finder | Calendar of Events