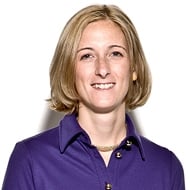 Name: Margaret Nagle
Firm: Yahoo!
Age: 33
Nagle's role at Yahoo! not only includes lobbying on legislation that will affect the company—matters such as patent reform and a possible online piracy-and-counterfeiting bill—but she also develops broad strategy for the government-affairs group. That includes figuring out the most effective ways to partner with trade associations and shaping the messaging on issues important to Yahoo!.
Nagle developed her strategic skills as well as her network of Hill contacts as a public-sector lobbyist. She ran the legislative-affairs office for Vice President Dick Cheney, and before that she headed legislative affairs for the Office of Management and Budget.

This article appears in the June 2011 issue of The Washingtonian.