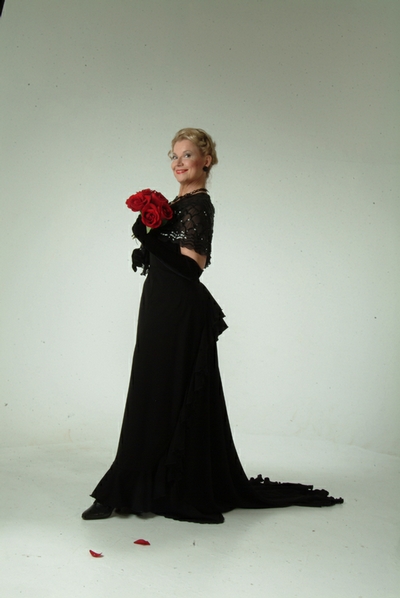 As a city full of embassies, Washington offers a smorgasbord of international flavors, and that goes for classical music, too. The Embassy Series hosts a season of chamber-size concerts in various embassies and ambassadorial residences around town, often featuring the music and/or musicians of that country. The penultimate concert of the season, planned for this Friday evening (May 27, 7:30), is an evening of mostly Czech music at the Embassy of the Czech Republic (3900 Spring of Freedom St. NW). Soprano Rosa Lamoreaux, clarinetist Richard Spece, and pianist Elizabeth Hill will perform love songs and other music suitable for May, the month of lovers in any culture.
Lamoreaux is likely familiar to most classical-music mavens in Washington because she has been performing throughout the city for some 25 years. In response to questions earlier this week, she told me she loves singing in many venues in Washington—the auditoriums at the Library of Congress, the US Holocaust Memorial Museum, and the Phillips Collection for their "warm acoustic resonance"; the ringing stone of spaces at the National Gallery of Art (where she directs a vocal ensemble) and Washington National Cathedral, "particularly for chant and early music" have also captured her imagination. Above all, she adds, "Strathmore is terrific, and I share with many of my colleagues a genuine enthusiasm for performing in that space."
What does she enjoy about the program she'll perform at the Czech Embassy? "The lovely, impassioned songs of Ludwig Spohr for voice, clarinet, and piano are a delight to present to audiences," she says. They're also rarities in performance, as the music of this early-19th-century composer is not heard all that often, other than a few of his concertos and works of chamber music. A Czech composer on the program, Antonin Dvorak, is known for his symphonies. Lamoreaux continues, "He also wrote many songs, and we have chosen five gorgeous Liebeslieder—love songs­—which will be sung in Czech."
"The world of song offers singers the privilege of poetry to express," says Lamoreaux, "and singing the original language in the composer's settings is usually preferable." It also tests a singer's training in foreign diction: In this concert alone, Lamoreaux will sing in Italian, German, English, and Czech. "I love the richness of the Czech language," she adds. "These Dvorak songs are about the loss of love as well as happiness in love. It's difficult to describe, but the Slavic languages inspire a slightly darker sound in the voice."
An Embassy Series concert comes with a relatively high price tag, but the cost in this case ($75) includes a "deluxe buffet reception" after the concert, including wine and beer, as well as Czech cuisine prepared by the embassy's new chef. The embassy is an older building at the edge of Rock Creek Park in a beautiful wooded setting. Last year, the Czech Republic announced it had chosen a design for a new embassy building by the architectural firm Chalupi Architekti.
Subscribe to Washingtonian
Follow Washingtonian on Twitter
More>> After Hours Blog | Arts & Events | Happy Hour Finder | Calendar of Events