The Tree of Life
Terence Malick's fifth feature drew both spirited boos and massive adulation when it premiered at the Cannes Film Festival earlier this month, but it went on to win the festival's top prize. The film is surely one of the most anticipated and talked-about films of the year for hardcore cinephiles, and this is a case in which such talk cease after audiences see the movie: Some contend that it's self-indulgent pretension; others argue in favor of its touching depth and formal cinematic genius. Malick's film was bound to draw these kinds of reactions; the film is deeply and sometimes impenetrably personal. It is a summation of some of the most abstract and impressionistic filmmaking techniques that he's honed over his long—but hardly prolific—career, and it is a film that works on about the grandest scale imaginable, charting the universe from the moment of creation to the first spark of life to the evolution of that life right up to the birth of a Texas child in the 1950s.
The family that greets that child is led by a father (Brad Pitt) who is harsh and caring. They go through the business of day-to-day life, leading up to a tragedy that's revealed at the very start of the film. Sean Penn also stars as one of those children, now grown, looking back on these often difficult memories. There's little in the way of a traditional story, and the near-whispered narration that has become typical of Malick's style becomes a focal point here, as characters ask questions of a creator who may be paying attention but may not have any answers. It's a sprawling, difficult work—though I contend there are great rewards for the effort. There's enormous room for interpretation and speculation, and Malick doesn't provide easy answers. But frankly, films that garner universal acclaim or universal derision get kind of dull after a while; Tree of Life risks alienating viewers to create something that's as large as the universe and as small as one man's childhood. It may not please everyone, but sometimes great art is worth arguing over.
2011 DC Caribbean Film Fest
June is Caribbean American Heritage Month, and for the 11th year the AFI is partnering with the Caribbean Association of World Bank and IMF Staff, the Caribbean Professional Network, the Institute of Caribbean Studies, and TransAfrica Forum to present a series of Caribbean films. Opening on Friday and running for four days, the festival screens 11 films—documentary and narrative, old and new. Highlights include Rise Up, a 2009 documentary about three reggae musicians struggling for success in a saturated music scene in Kingston, which won the Best Music Documentary award at Silverdocs in 2009; Maestra, a new Cuban/US documentary short about the 1961 Cuban Literacy Campaign that skyrocketed that country's literacy rate to 96 percent (the film's director, Catherine Murphy, will be at the screening); and '70: Remembering a Revolution, a new documentary looking at Trinidad and Tobago's Black Power revolution 40 years later.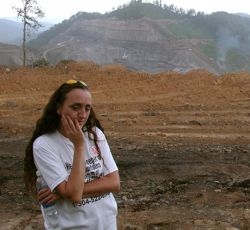 The Last Mountain
Mountaintop-removal mining has become a controversial subject. Grassroots efforts to end the practice often come up against an industry that claims there's nothing wrong with it. You can guess from the title which side The Last Mountain comes down on. This might make a good companion piece to last year's eye-opening Gasland, which detailed the environmental horrors and human fallout from natural-gas drilling. In The Last Mountain, director Bill Haney puts on display a staggering number of disturbing facts, figures, and images related to this method of mining coal. Haney looks at communities stricken with massive cancer rates, toxic runoff deposited near schools, and the destruction of beautiful landscapes in the name of profit, but he focuses the film beyond all of these statistics and anecdotes on one particular fight in a West Virginia town to save a local mountain from destruction.
Opens Friday at
Landmark E Street Cinema
Producer Clara Bingham will be on hand for a Q&A at the 4:40 and 7:10 PM shows on Friday night.
EuroAsia Shorts
Each year, the EuroAsia Shorts Film Showcase takes one particular theme, then programs short films from European and Asian nations to screen on the same evening to illustrate the cultural differences around that theme as manifested in that country's cinema. This year's theme is "men, women, and the challenges of relating to one another," so you can expect lots of relationship and family dramas. Each evening's screenings take place at a different European or Asian cultural center in DC, with the programming built around that venue. So the opening-night program at the Goethe-Institut pairs German shorts with films from China and Taiwan, the second night at the Japan Information and Cultural Center matches up Japanese and Italian films, and so on. Each night, a discussion takes place on the films from that evening.
June 6 through June 10 at five venues around town. For the complete schedule, see
the festival site
. Free.
In Praise of Independents: The Flaherty
The annual Flaherty Seminar takes place at Colgate University and goes back more than 50 years. It started as a tribute to documentary pioneer Robert Flaherty, director of the landmark Nanook of the North, and is run by a nonprofit organization called the Flaherty. The group seeks to encourage documentary and experimental filmmaking, and the seminar gives filmmakers, academics, critics, and students a forum to present, study, and discuss innovative new and classic films. This year the National Gallery of Art presents two programs of films from last year's seminar, starting with a collection of a half dozen shorts (including a 1925 Flaherty short, The Pottery Maker) and followed by a screening of La Libertad, a feature by Argentinean filmmaker Lisandro Alsonso, who was one of the featured artists at last year's event.
X-Men: First Class
This weekend sees the release of the second of roughly three dozen comic-book adaptations coming out this summer, this one an X-Men prequel that heads back to the youth of the ensemble's primary characters. The film centers on the friendship of a young Professor X (James McEvoy) and Magneto (Michael Fassbender) in the days when they were still just Charles and Erik, before they became enemies, just after Xavier had started a school for young mutants. Director Matthew Vaughn and the film's writers take a big risk in departing from the backstory of the comics, setting the origin story against the backdrop of the Cold War and the Cuban Missile Crisis. It's a move that might cause some grumbles in the fanboy community, but it has thus far resulted in some of the best reviews for the entire series of X-Men movies, no small feat given the lackluster third film and the practically unwatchable Wolverine spin-off. About the only way to avoid comic-book movie fatigue at the multiplex this summer is if the movies themselves aren't tired money grabs, and if the early reviews are any indication, First Class may manage to avoid that pitfall.
New DVD/Blu-ray Pick of the Week: American Graffiti
After the meditative dystopian science fiction of his first feature, TXH-1138, George Lucas took a stab at the mainstream with a nostalgic and personal look back the youth culture of the early '60s California, where he'd come of age. The result, American Graffiti, was a massive success, and Lucas would never toil in the obscurity of small-budget passion projects again. Of course, he also would never make anything with the intimate feel of Graffiti again either. The film is a unique moment in his filmography: a movie set only a few years before, and in a very familiar galaxy. It's a series of intertwining vignettes on the last night of the summer of '62, just as the recent high-school grads who form the core of the movie are about to transition into adulthood. The near-documentary style—largely the result of a severely limited budget—heightens the sense that we're looking through a window into Lucas's own youth: These were the characters he hung out with, the places they cruised around to pass the time, and the songs they listened to. Not to take anything away from Star Wars, but Lucas would never have a sense of real humanity this accessible in his films again.
Special Features: American Graffiti was a coming-out for a number of actors who would go on to become major stars, including Richard Dreyfuss, Harrison Ford, Cindy Williams, and Ron Howard (who was, of course, a child star but had his first role as an adult here); the new Blu-ray includes early screen tests for a number of these stars. There's also an extensive documentary on the making of the film and two interactive picture-in-picture commentary features, one with George Lucas and another on the more than 40 songs that make up its memorable soundtrack. The film is digitally remaste
red, perhaps too crisply for some tastes, given that the original version probably wasn't quite as sharp as it's been made for the high-definition rerelease; but then again, it wouldn't be Lucas without some digital tinkering, would it?
Subscribe to Washingtonian
Follow Washingtonian on Twitter
More>> After Hours Blog | Arts & Events | Happy Hour Finder | Calendar of Events