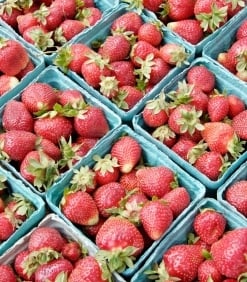 Scorching sun and lots of rain this spring mean there's plenty of fresh fruit in Maryland and Virginia. Strawberries are at their peak right now and will last for another three weeks or so. Next comes blueberries, then tart cherries, blackberries, and raspberries. Skip the grocery store—and its high prices!—and head to these area farms to pick your own share of the crop. (Farmers advise pickers to always call first to confirm berry availability.)
MARYLAND
Butler's Orchard
22200 Davis Mill Rd., Germantown; 301-972-3299
Picking outlook: Strawberries are out through the third week of June. Blueberries will arrive shortly after and stick around until early August, when you'll find tart cherries and thornless blackberries. Red raspberries are available from mid-August through the end of September.
Extras: Grab one of Butler's freshly made fruit slushies—strawberry-lemonade is popular—to keep cool. From July through September, you can create your own bouquet from Butler's flower garden.
Cost: No admission fee. If you pick more than five pounds, there's no charge for containers. Otherwise, it's 60 cents per basket.
Hours: Open Tuesday through Friday 8:30 to 6, Saturday and Sunday 8:30 to 5.
See Also:
Homestead Farms
15604 Sugarland Rd., Poolesville; 301-977-3761
Picking outlook: Strawberries are available for picking through mid-June. Then come blueberries—a first for Homestead—and tart cherries, which will last through mid-July. Both thornless and thorned blackberries will arrive at that time and be available through mid-August.
Extras: If you're picking on a weekend, Homestead drives customers to the fields on a tractor. Check out the free petting zoo, featuring calves, lambs, ducks, goats, and other farm animals.
Costs: No admission fee. Bring your own container or borrow a crate from Homestead's market.
Hours: Open daily 9 to 6.
Rock Hill Orchard
28600 Ridge Rd., Mount Airy; 301-831-7427
Picking outlook: Rock Hill is growing Early Glow strawberries this year, a small, sweet variety of the fruit. Those are available now through mid-July, when blackberries become available; they last through the middle of August. Red raspberries immediately follow and remain in the fields until early fall. Tart cherries have a short season this year and will be available only for purchase at the indoor market at the end of June.
Extras: Spend $20 at Rock Hill to earn a free reusable tote bag; there's a printable coupon on the farm's Web site for the deal. The orchard also offers free hayrides and is a participant in July's Montgomery County Farm Tour.
Cost: No admission fee. Bring your own container or purchase a cardboard tray for $1.
Hours: Open Monday through Saturday 9 to 6, Sunday 10 to 5.
VIRGINIA
Great Country Farms
18780 Foggy Bottom Rd., Bluemont; 540-554-2073
Picking outlook: Ripe strawberries can be picked now through mid-June. Blueberries will start around that time and last into the first week of July. Blackberries typically peak between mid-July and early August. Red raspberries round out the summer crops, just in time for Labor Day weekend.
Extras: A hayride takes pickers around the 300-acre farm to the crop sites. The farm includes a play area, mazes, catch-and-release fishing, putt-putt golf, and weekend winetasting.
Cost: Farm admission is $8 for children, $10 for adults; festival-weekend prices are $2 more. Extras are included in admission.
Hours: Open daily 9 to 6, but the last hayride leaves at 5.
Hartland Orchard
3064 Hartland Ln., Markham; 540-364-2316
Picking outlook: Strawberries are in season now through June. The cherry orchard opens June 18. Be warned: The supply of sweet cherries is usually gone within a day or two, and sour cherries last maybe a week. Blueberries, raspberries, and blackberries will be ready in late June to early July.
Extras: While you're out there, check out Skyline Drive in Shenandoah National Park.
Cost: $10 admission to sweet-cherry orchard; no fee for sour-cherry orchard.
Hours: Open daily 8 to 6.
Hollin Farms
1410 Snowden Rd. (strawberries), 1524 Snowden Rd. (other fruit, located in peach orchard), Delaplane; 540-592-3574
Picking outlook: Strawberries will be around until mid-June. Red raspberries continue the color trend from the end of June into early August, while blackberries will be ready from mid-July through early August. The farm is projecting a July 4 start date for the peach-picking season. Sweet corn makes an appearance around that time, as well as a number of vegetables, including string beans and eggplant.
Extras: Children can play with the goats and chickens. Sky Meadows State Park is just down the road.
Cost: No admission.
Hours: Wednesday through Sunday 9 to 5.
Willow Oaks Berry Farm
2521 Midland Rd., Midland; 540-788-9099
Picking outlook: Blueberries are the first crop at this farm, starting in mid-to-late June and running through mid-July. Thornless blackberries should be available from early July to early August, and red raspberries finish the season, from late August through the first frost.
Extras: Bring your lunch and eat at one of the picnic tables. Children can run around the large, open spaces and sip "organic water" from the well.
Cost: No admission.
Hours: Tuesday through Saturday 9 to 5, Sunday noon to 5.
Subscribe to Washingtonian
Follow Washingtonian on Twitter
Follow the Best Bites Bloggers on Twitter
More>> Best Bites Blog | Food & Dining | Restaurant Finder