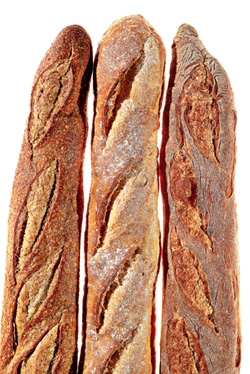 IF YOU'RE LOOKING FOR. . .
Dinner-Party Desserts
The stylish new bakery Tout de Sweet (7831 Woodmont Ave., Bethesda; 301-951-0474) offers an array of breakfast pastries and cupcakes, but the best reasons to visit are Euro-style confections such as a currant-studded charlotte, a many-layered opera cake, and airy coconut macarons. For nice (and budget-friendly) fruit tarts that will feed a crowd, try Desserts by Gerard (6341 Livingston Rd., Oxon Hill; 301-839-2185), run by a former Watergate pastry chef.
Croissants
Saint Michel Bakery (5540 Wilkins Ct., Rockville; 301-770-5090) is signless and hidden in a small strip mall, but chef/owner Bertrand Houlier's airy croissants (both plain and almond-filled) and darkly baked raisin twists make it worth the hunt. A nice touch: Most everything comes in both full-size and miniature versions.
Kid-Friendly Treats
The Mommy and Me set is well served at Buzz Bakery (901 Slaters La., Alexandria; 703-600-2899). Besides a kiddie-size play kitchen, there are spiffed-up versions of Rice Krispies treats and Hostess cupcakes as well as s'mores-flavored brownies. Cupcake lovers should head for Something Sweet (3706 Macomb St., NW; 202-364-2525), which turns out good ones in such flavors as Rocky Road and Fluffernutter.

Breakfast
Stock up on house-made granola, lemony blueberry tea cake, and rings of lightly boozy rum cake at the charming Red Truck Rural Bakery (22 Waterloo St., Warrenton; 540-347-2224). A loaf of the nubby harvest-wheat bread makes good toast. In warm weather, few city spots are as transportive as the small patio at the French-style Patisserie Poupon (1645 Wisconsin Ave., NW; 202-342-3248) in Georgetown. The Breton-style butter cakes and brioche are nice, too.
Doughnuts
Montgomery Donuts may have closed eight years ago, but the honey-dipped and powdered treats are now available at an unlikely place: Slice N Dice (2175 Crystal Plaza Arcade, Arlington; 703-418-4444), a pizza shop in Crystal City. For an even richer treat, head to the Mexican bakery La Flor de Puebla (6300 Kenilworth Ave., Riverdale, 301-699-8708; 5024 Edmonston Rd., Hyattsville, 301-699-8658) for its cream-filled rounds called bolas de Berlin.


This article appears in the May 2011 issue of The Washingtonian.