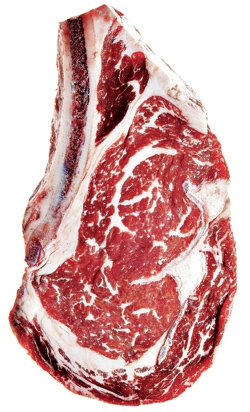 The Butcher's Block
1600 King St., Alexandria; 703-894-5253.
Robert Wiedmaier's gourmet shop offers a chance to buy the same high-quality ducks, chickens, and lamb tenderloins that the chef uses at Brabo, his upscale American restaurant next door. Look for house-made duck sausage, slabs of pork belly, locally raised Cornish hens, and veal burgers, a great splurge if you're firing up the grill. Another benefit of a chef-driven operation: house-rendered duck fat and bordelaise sauce.
Dutch Country Farmers Market
9701 Fort Meade Rd., Laurel; 301-421-1454
Relocated after many years in Burtonsville, this enclosed farmers market is bigger than ever—one of the best places in the area to sample the variety of foods favored by the locavore-before-it-was-trendy Pennsylvania Dutch. The butcher, one of many stalls, features freshly slaughtered Amish-country chickens, a variety of homemade sausages, both beef and baby back ribs, and giant smoked turkey wings.
Laurel Meat Market
347 Main St., Laurel; 301-725-5855.
This old-school market, now in its fifth decade, has never been a destination for specialty goods or exotic game. You come for the basics—grass-fed, hormone-free, and antibiotic-free cuts of chicken, beef, lamb, pork, and turkey—and for the knowledgeable staff. Keep an eye out for the fresh ground beef and the standing rib roast. On occasion you'll also find local wild rockfish.
Lebanese Butcher & Restaurant
150 Hillwood Ave., Falls Church; 703- 533-2903.
Relocated after a fire gutted his original location, butcher Kheder Rababeh is again breaking down whole carcasses shipped from his slaughterhouse in Warrenton. Lamb is the specialty, and there may be no better—or cheaper—spot to buy it. Rababeh will debone a whole leg for a Sunday roast, cut it into inch-thick chops for the grill, or butterfly it for a quick stir-fry.
Let's Meat on the Avenue
2403 Mount Vernon Ave., Alexandria; 703-836-6328.
At this Del Ray shop, Aussie Steve Gatward sells only free-range, pasture-fed, hormone-free meats, many from local farms. Among the treats are hand-sliced Nueske's slab bacon, plump wild-boar chops with frenched bones as white as china, and house-made sausages.
My Butcher & More
1410 Forest Dr., Annapolis; 410-295-7500.
With his affable demeanor and blood-flecked apron, Mike Smollon summons memories of butchers of old. Look for dry-aged steaks from Maryland's Roseda Farm, local lamb, and steak burgers ground from USDA prime rib-eye trimmings.
The Organic Butcher of McLean
6712 Old Dominion Dr., McLean; 703-790-8300
The selection at this premium butcher, perhaps the area's widest, includes goose, pheasant, and venison, and the staff is helpful. The standing rib roast is superlative. For the adventurous, a whole side of beef can be had—assuming you have room for 400 pounds of meat.
Wagshal's
4845 Massachusetts Ave., NW; 202-363-0777
At this longstanding neighborhood shop in DC's Spring Valley, Pam Ginsberg trims dry-aged porterhouses, prepares saddle of lamb, and dispenses cooking advice for a hanger steak with sassy good cheer. The quality of the meats is high, and so is the quality of service.
This article appears in the May 2011 issue of The Washingtonian.