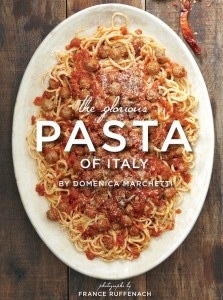 Monday, June 6
Father's Day isn't until June 19 (you're welcome for the reminder), but Bastille is celebrating early with a four-course dinner featuring two things dads love: beer and grilling. The evening starts with a reception at 6:30, followed by a sit-down meal with such dishes as shrimp beignets with corn and basil; grilled sea scallops with orange-coriander vinaigrette and eggplant purée; and barbecued pork shoulder with mole reduction and black-eyed-pea succotash ($39 per person). The accompanying beer pairing ($20 per person) features pours from Virginia—including Alexandria's Port City Brewing Company Optimal Wit—and Belgium, such as Kasteel Biere du Chateau Rouge (click here for a menu). For reservations, call 703-519-3776.
Tuesday, June 7
Italian cookbook author Domenica Marchetti—you might know her name from Big Night In—will be at Bibiana for a four-course dinner, and chef Nicholas Stefanelli is preparing dishes from her latest cookbook, The Glorious Pasta of Italy. Marchetti will discuss the type of pasta in each course, such as pasta minestrone soup with peas and pancetta; pasta ascuitta with mussels and shrimp; and a dessert pasta stuffed with walnuts and almonds. Tickets ($90 per person) include a reception at 6:30, wine pairings, and a copy of the book. Call 202-216-9550 for reservations.
Wednesday, June 8
Happy hour is literally for the dogs this summer with two pet-friendly drinking events. The Park Hyatt Washington starts its Paws at the Park happy-hour series today from 6 to 8, which benefits the Washington Animal Rescue League. Once a month, guests can bring their pooches to the patio for complimentary treats. Owners pay $12 for two drinks (beer or wine). Animals available for adoption will also attend. Helix Lounge is hosting a similar event every Wednesday from 5 to 7 with discounted drinks—$5 cosmos and $3 Yuenglings—and free treats for pets. A dollar from every drink benefits the Shaw Dog Park. Visit the Web site for more information.
Elizabeth's Gone Raw is hosting a cocktail reception and five-course raw-foods dinner with guest speaker David Wolfe, a health-and-nutrition expert who'll speak about superfoods and superherbs. The event starts at 5:30 with glasses of biodynamic wines and is followed by a meal with dishes such as spring-mushroom salad on butter lettuce with truffle vinaigrette; olive cannelloni with parsley salad and heirloom-tomato-and-basil relish; and cacao layer cake with goji berries and chocolate mousse. The dinner is $75, and a full biodynamic-wine pairing is an additional $30. Visit the Web site for more information, and call 202-347-8349 for reservations.
Thursday, June 9
Chefs and environmentalists are gathering at the National Museum of Natural History for a roundtable discussion called "The Gulf and Its Seafood—One Year Later" from 6:45 to 8:15. Actor and Oceana founding board member Ted Danson and experts such as Jane Lubchenco, undersecretary of commerce for Oceans and Atmosphere, and Donald Boesch, president of the Center for Environmental Sciences at the University of Maryland, will discuss the state of Gulf fisheries and ecosystems (click here for more information). After the talk, there's a "dine-around" with sustainable seafood dishes from Washington and Gulf-state chefs, such as oysters from Acme Oyster House in New Orleans, Spanish mackerel with spiced yogurt from Birch & Barley, and seared day-boat scallop with corn sauce and bacon from Tracy O'Grady of Willow (click here for a full list of dishes *PDF). Tickets ($95 general admission; $80 Smithsonian Resident members) are available on the Web site.
Grab a picnic blanket and head to the Textile Museum's garden from 6 to 9 for its Urban Picnic: drinks, food, games, and live music to celebrate the current exhibition "Green: The Color and the Cause." There's a pop-up farmers market as well. The $10 tickets include a drink for Textile Museum members. Visit the Web site to purchase passes.
Friday, June 10
The International Club of DC is hosting a sunset margarita cruise. The boat trip sets off at 7 for a two-hour trip that includes $3 margaritas and complimentary hors d'oeuvres from Lebanese Taverna, such as hummus, Lebanese salad, and beef shawarma. Click here for tickets; prices start at $35 for ICDC members or $40 for nonmembers and go up closer to the event.
Saturday, June 11
Ceiba is hosting a Mexican cooking class from 11 to 1. Participants will learn how to prepare yellow-tomato gazpacho, summer-vegetable tamales, shredded-chicken enchiladas, and sopapillas. The class also includes wine pairings. The event, which includes lunch, is $75 per person. For reservations, call Jillian at 202-408-0201 or e-mail jillian@passionfoodhospitality.com.
EatBar's third annual Beach Blanket Bash runs from noon to 3. Music on the patio, surfer flicks on the indoor movie screens, and plenty of food and wine will be available. Tastes of 25 wines are included in the ticket cost ($25 per person), and chef Barry Koslow is cooking up summery dishes such as fish tacos with tomatillo salsa; Red Apron hot dogs with pickle relish and brown mustard; and blue-crab hushpuppies with Old Bay aïoli. Visit the Web site to buy tickets.
There's a DIY drink-ingredient class at Columbia Firehouse. Participants will learn to make their own simple syrups, grenadine, mixers, and more, all of which
you can bottle and take home for later use. Mixologists will be on-hand to whip up cocktails with your class material. The course, from 2 to 4, is $42 per person. Visit Columbia Firehouse Web site for more information and to purchase tickets.
Sunday, June 12
Top Chef alum Carla Hall is leading a cooking class at her Silver Spring kitchen on how to make "Bubby's Recipes," an event hosted by the Jewish Service Corps Avodah. Guests will prepare—and taste—dishes such as spicy sweet-potato-and-caramelized-onion knishes; kugel with spinach, leeks, and goat cheese; pan-seared smoked-salmon cakes with horseradish aïoli; and challah bread pudding with apples and rosemary-honey drizzle. The majority of proceeds from the ticket price ($125 per person) go toward Avodah's DC program. Visit the Web site for more information, and call Emily Osterhus at 202-450-2837 for reservations.
Subscribe to Washingtonian
Follow Washingtonian on Twitter
Follow the Best Bites Bloggers on Twitter
More>> Best Bites Blog | Food & Dining | Restaurant Finder