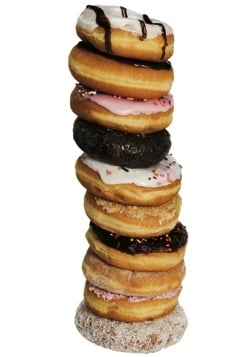 It's a weekend morning—do you know where your doughnut is? Here are our six favorite places for the wake-up treat.
Baked & Wired. Doughnuts are shaped like airy sugar-rolled muffins, both plain and jelly-filled, at this bakeshop. We're not the only fans: They're available only on Tuesday and Friday and often sell out by late morning.
Cork Market & Tasting Room. Wine gets most of the attention at this gourmet shop, but on Sunday fried-to-order doughnuts deserve the spotlight.
La Flor de Puebla (6300 Kenilworth Ave., Riverdale, 301-699-8708; 5024 Edmonston Rd., Hyattsville, 301-699-8658; 10470 Dumfries St., Manassas, 703-257-2054). Rich, eggy cream fills the powdered-sugar-sprinkled puffs called bolas de Berlin at this Mexican bakery.
Shilla Bakery (Fairfax, 703-352-1446; Annandale, 703-333-2001; Centreville, 703-266-6001; Rockville, 301-217-0003). At this Korean bakery, you can fill your basket with red- and white-bean-stuffed doughnuts and rice twists, but it's the crullers that are top-notch.
Slice N Dice (2175 Crystal Plaza Arcade, Arlington; 703-418-4444). Montgomery Donuts closed eight years ago, but you can now find the classic glazed or chocolate-frosted rounds in an unlikely place: a pizza shop.
2 Amys. Walk into this chaotic pizzeria on a weekend and you'll see a big tray of cinnamon-sugared doughnuts. An order of the light, orange-scented pastries comes with not only the doughnut but the hole, too.
This article appears in the June 2011 issue of The Washingtonian.
Subscribe to Washingtonian
Follow Washingtonian on Twitter
Follow the Best Bites Bloggers on Twitter
More>> Best Bites Blog | Food & Dining | Restaurant Finder