Sauciferous!
One of the most fun film series in DC each summer is the Hirshhorn's annual celebration of campy 1950s cinema, which in the past has focused on sci-fi femmes fatales, Godzilla, and sea monsters, to name a few. This year, they've got flying saucers on the brain, with three '50s alien-invasion classics featuring our impending demise at the claws of evil space invaders. Or, in the case of the first film on the list, 1951's The Day the Earth Stood Still, aliens who aren't so much aggressive as they are concerned that the aggression of us humans is going to end up spreading beyond our planet. They send a powerful robot named Gort as an intergalactic cease-and-desist order, telling humans to shape up, fly right, or face destruction. The screenings continue for the two Thursdays after tomorrow, starting with the first film adaptation of H.G. Wells's The War of the Worlds, followed by the campy, but super-fun Earth vs. the Flying Saucers. Each of these films will be introduced by University of Maryland and George Washington University film professor Dave Wilt, who will presumably talk about the films' Cold War context and invasion-paranoid national mood that manifested them
Watch the trailer.
The Day the Earth Stood Still screens tomorrow at 7 p.m. at the Hirshhorn, with another film each of the next two Thursdays. Free.
Beginners
This film technically came out last week, opening at Bethesda last Friday. But as of last week's writing, the press screening hadn't taken place yet, and I was unsure from the trailer just how (or if) things like a subtitled dog were going to work into the story of a man caring for his dying, septuagenarian, just-recently-out-of-the-closet father. Turns out my fears that it might be too quirky for its own good were unfounded. Mike Mills's second narrative feature is an extremely personal, deeply moving look at familial love and the effect it has on our romantic relationships.
The story is autobiographical, with the experiences of Oliver (Ewan McGregor) drawn from Mills's own life. He finds out, just after his mother's death, that his father, Hal (Christopher Plummer), is gay. Not long after coming out and beginning to date men, Hal discovers he has terminal cancer. In the film, these scenes play out as flashbacks from Oliver's present, as he begins dating a French actor played by Mélanie Laurent. All three deliver moving performances: This may be the best work of McGregor's career, and hopefully the film's June release won't cause the Academy to forget Plummer when nomination time rolls around.
The film does have its quirks; all I'll say about that subtitled dog is that Mills improbably makes it work, even within a story that otherwise feels as firmly tied to reality as this. The film is organically funny, without going so far as to tell jokes, and heartbreakingly sad, without ever feeling manipulative. It's also among the best films I've seen this year.

Watch the trailer.
Now playing at Bethesda Row through tomorrow, opens Friday at E Street.
Heavy Metal Parking Lot
Twenty-five years ago, local filmmakers John Heyn and Jeff Krulik took a video camera out to the old Capital Centre in Landover and shot the tailgate parties of the metalheads (many drunk or otherwise substance-impaired) hanging out before a Judas Priest/Dokken show. Despite never seeing the official light of day until just a few years ago, this hilarious slice of headbanger life became a hugely loved film back in the days when sharing a film meant passing around beat-up VHS tapes rather than clicking YouTube links. In honor of the film's 25th anniversary, Krulik and Heyn have been taking the film on a nationwide tour, which stops this weekend at the AFI. Heavy Metal Parking Lot itself is just a 17-minute short, so they're pairing it with the feature-length Heavy Metal Picnic. That film, which only saw the light of day for the first time last year, was actually shot a year before Parking Lot at a massive outdoor metal party in Potomac.
Friday at 9:30 p.m. at the AFI. Director Jeff Krulik, along with some of the film's producers and subjects, will be on hand.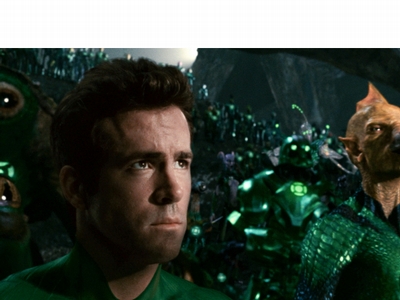 Green Lantern
Pity the poor Green Lantern, entering into a crowded field of comic-book films this summer without being either part of an established series ( X-Men: First Class) or a highly anticipated lead-in to next year's massive Avengers extravaganza (Thor, Captain America). Of course, there's also the potential confusion over the fact that there's another masked do-gooder movie this year starting with the word "green," and that movie 1) already came out and 2) was kind of disappointing. Add to that a taste at Comic-Con last year that left the collective geekdom underwhelmed, and Lantern may be doomed. I don't have high hopes for this one, but Ryan Reynolds and Peter Sarsgaard are genuinely likable actors, so I still hope for their sake that this is at least worthy as light summer fun.
Opens Friday at theaters across the area.
The Trip
The Trip started life as a six-episode BBC series featuring British comic actors Steve Coogan and Rob Brydon playing fictionalized versions of themselves, traveling the north of Britain on a restaurant tour that Coogan is to write up for a celebrity foodie piece for The Observer. The producers decided to edit the three-hour series down to a two-hour feature film. The edited version drops a lot of the restaurant sequences that made this a food-lover's dream come true: the many scenes of multiple courses being prepared in the kitchens of actual fine restaurants. In the series, these scenes served as the backdrop for the semi-improvisational comedic conversations Coogan and Brydon have over dinner, much of which found the two men trying to one-up one another with their rather prodigious (and hilarious) impressions: from Michael Caine to Al Pacino to Anthony Hopkins. With much of the more meandering chit-chat dropped, the film focuses more attention on the story arc that holds the series together: Coogan character's strained relationship with his girlfriend back in the United States and his immature ways of dealing with his place as a well-known actor who still isn't quite a star, moving gracelessly into middle age still mostly remembered for a 10+ year-old comedy series and his numerous unflattering tabloid headlines. The resulting film is probably best left to those already with a strong liking for British humor; but if you have that taste, the film is both hilarious and thoughtful.

Watch the trailer.
Opens Friday at E Street Cinema.
Who Took the Bomp? Le Tigre On Tour
Director Kerthy Fix, who released an excellent documentary on The Magnetic Fields last year, returns with another indie rockumentary, this time a look at the long-running feminist synth-punk outfit Le Tigre on their 2004-05 tour. In addition to plenty of footage of their always raucous and visually dazzling live shows, Fix's camera heads backstage for candid moments between sets, along with a number of archival interviews, to paint a picture of who the band is and what they do best: making you think while making you dance.
Saturday at 7 p.m. at Gold Leaf Studios, presented by Where the Girls Go. Tickets are $6 in advance, $10 at the door.
DVD/Blu-ray Pick of the Week: Point Break


This isn't the first time on Blu-ray for Kathryn Bigelow's 1991 FBI-surfer-heist action extravaganza, but the 2008 release went quickly out of print before being picked up by another company for re-release this week. But seeing it on the release schedule, I couldn't help but highlight it. If you only remember this as a mindless action flick with some of Keanu Reeves' most operatically overblown "look how serious I can be!" acting, you're probably not entirely wrong. But this film has become a cult hit, and merits some 20th anniversary love, and not just because its director is now an Academy Award winner for The Hurt Locker. Point Break is a winner on multiple fronts. It's got the endless quotability inherent to the best cult picks ("Little hand says it's time to rock and roll." "I am an F! B! I! agent!"). It's got the glossy, easy watchability of the best summer popcorn flicks. Most of all, it has some truly intense, beautifully staged action sequences from Bigelow. Hurt Locker may have been an indie prestige film by the time it won all its awards, but let's not forget that a large part of its appeal is the high-tension action choreography that Bigelow is a master at creating; no amount of hammy acting from Reeves and Patrick Swayze can take away from the visceral thrills she brings to this film. In fact, I'd argue that their over-the-top performances—culminating in an utterly ridiculous, yet absolutely unforgettable rain-soaked beach scene ending—match Bigelow's tone perfectly. Fire up a bag of popcorn and queue this one up for a fun summer evening.
Subscribe to Washingtonian
Follow Washingtonian on Twitter
More>> After Hours Blog | Arts & Events | Happy Hour Finder | Calendar of Events