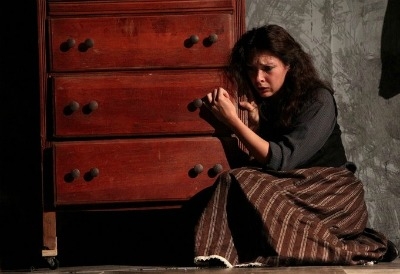 Last week, the IRS revoked the tax-exempt status of more than 275,000 institutions that had failed to file the requisite paperwork with the IRS. The move was mandated by a law Congress passed in 2006 requiring nonprofit organizations to file additional paperwork every year. The biggest victim by far were arts institutions: 26,875 arts and culture nonprofits were affected nationwide, fully 20 percent of the country's arts-related organizations.
In Washington, the large majority of these institutions are now defunct, groups like the North American Chinese Sociologist or the Pushkin Press, but among them was DC's Scena Theatre, the small company dedicated to international theater based at the H Street Playhouse. Scena is currently staging its production of Finnish author Sofi Oksanen's Purge, a theatrical adaptation of Oksanen's book about Eastern European victims of sex trafficking. The timing of this news was therefore unfortunate, to say the least. "When this all broke on June 9, we were in the process of re-filing our tax-exempt papers for the last few years," says Scena artistic director Robert McNamara. "It's a great inconvenience, and we're certainly taking it seriously."
Although Scena has been an active theater company for more than 20 years, its business manager moved to London two years ago, complicating the company's ability to maintain its paperwork. Without nonprofit status, Scena is unable to accept donations to fund its upcoming season, which includes productions of Conor McPherson's The Seafarer and Steven Berkoff's Greek. McNamara says the company is still working with its assumed budget, and has consulted a lawyer from the Cultural Alliance of Greater Washington to help it file the correct paperwork and retroactively accept donations.
Performances of Purge are continuing as usual in the meantime, and McNamara is hopeful that the issue will be resolved soon. "It's basically a matter of reapplying, and the IRS is being pretty goodwilled about it all," he says. "They know that there are legitimate organizations, particularly small ones that were unaware of the filing requirement, and they're taking additional steps to help these groups maintain their status. So we agree with that sentiment and we're trying to comply with whatever they need as speedily as possible."
Subscribe to Washingtonian
Follow Washingtonian on Twitter
More>> After Hours Blog | Arts & Events | Happy Hour Finder | Calendar of Events