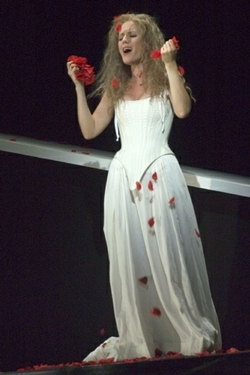 Correction: An earlier version of this story incorrectly identified singer Csilla Boross as a contralto. Boross is a soprano. We apologize for the error.
The Plácido Domingo era at Washington National Opera officially ended this month. The company heads into uncertain territory, having just saved itself from bankruptcy and possible dissolution by finessing a desperate merger with the Kennedy Center earlier this year.
Who will be leading the company into the future? Rather than strong central leadership, WNO announced that it has appointed one of the company's favorite opera directors, Francesca Zambello, to be its artistic advisor.
At the same time, current Chief Operating Officer Michael L. Mael has been bumped up to the position of executive director. If this sounds like a terrible idea, that's because it is one. Zambello has many of the same negatives as Domingo­—her work as a director takes her all over the world, for example—but none of the glamour. If she does indeed push the idea of an opera company mounting musicals, it might finally finish the job on WNO's subscriber base, after years of rising ticket prices.
The rosiest news for WNO is the appointment of Philippe Auguin as music director. Every score that Auguin has touched so far in Washington he has enriched with a perceptive knowledge, able to coax cohesive, multi-colored performances from the Opera House Orchestra. Along with the dynamic work of Christoph Eschenbach in the concert hall next door, Auguin's tenure makes being a classical-music listener in Washington most exciting right now. Make a note of the three operas that Auguin will conduct next season at WNO.
Donizetti's Lucia di Lammermoor runs from November 10 to 19, with both casts enriched by a good soprano lead (Sarah Coburn or Lyubov Petrova) for the vocal pyrotechnics and mad scene. The hard-hitting production by David Alden, from English National Opera, should also provide food for thought, although the rest of the cast is not particularly noteworthy.
Mozart's Cosi fan tutte runs from February 25 to March 15 in Jonathan Miller's notorious updated staging. It's exactly the sort of production one would expect from someone who actually said, "The purpose of great works is to remind us of the idiotic triviality of our existence."
And If you have always wanted to see Nabucco, this is your year, as WNO will give its first-ever performance of this early Verdi opera, from April 28 to May 21. We've heard good reports of the two leads, bass Franco Vassallo (Nabucco) and soprano Csilla Boross (Abigaille) from Europe, and we liked what we heard from young tenor Sean Panikkar last fall in Salome.
Plácido Domingo will still be around for the season-opening production of Puccini's Tosca, but only to conduct some of the performances, running from September 10 to 24. It remains to be seen if the first cast (Patricia Racette, Alan Held, Frank Porretta), let alone the second one (check the dates carefully), has the vocal goods for this demanding opera.
Finally, Massenet's Werther, running from May 12 to 27, rises and falls on the voice of its tenor, and Francesco Meli, a relative unknown but one who's scored some high marks in recordings, will make his company debut in the title role.
The two celebrity recitals next season don't look promising, either. Angela Gheorghiu (March 3) is a fine soprano, but is also notorious for cancellations. The program for Deborah Voigt and Teddy Tahu Rhodes (March 17) is not yet announced, but conductor Ted Sperling is a music theater specialist, so this is most likely going to be a Broadway kind of evening.
Washington Concert Opera
For less familiar fare, we always recommend the performances of Washington Concert Opera, both for the generally high caliber of lead singers and the assured conducting of music director Antony Walker. The more unusual opera of its two-opera season is more early Verdi, the rarely performed Attila (September 9), about Attila the Hun's destructive rampage through Italy. If we had to choose, however, the better cast is scheduled for the second opera, Samson et Dalila (May 13) by Camille Saint-Saëns, with rising tenor Brandon Jovanovich and incandescent mezzo-soprano Michelle DeYoung singing as the Biblical lovers.
For far less familiar and sometimes totally new works, the guerrilla company known as UrbanArias, a recent addition to the Washington area, will host its second festival of short contemporary English-language operas at Arlington's Artisphere from April 13 to 22. The selection of operas and casting of singers are still being determined, but artistic director Robert Wood said that the company is "considering works with subjects as varied as Mayor [Michael] Bloomberg's smoking ban, a 1950s sex manual, a young woman's search for love on the Internet, and a young man's brief and tragic idyll in New York City." If you're comfortable with intimate, black-box experimental theater, you'll fit right in with this group's performances.
Virginia Opera
Will Virginia Opera survive its not-so-amicable divorce from its long-time artistic director and (not so great) conductor, Peter Mark? The best option next season, to get an idea of what the company can do, is their production of Verdi's Aida with th
e outstanding young soprano Mary Elizabeth Williams and guest conductor John DeMain, which comes to the George Mason University Center for the Arts on October 14 and 16. After WNO's failed attempt to get a December Hansel and Gretel tradition started, Virginia Opera will stage the work close to Christmas next season (at George Mason University on December 2 and 4). The company's staging of Philip Glass's Orphée also makes our list, just because of the chance to see a new opera staged (a daring move for Virginia Opera), but my experience with listening to the work on its recent recording has not been positive.
Lyric Opera Virginia
Dusk fell quickly on the renamed Aurora Opera Theater, formerly the Opera Theater of Northern Virginia, when it announced last month that it would go gentle into that good night. Their slot may be taken by Peter Mark, supported by some associates of his former company, who announced the formation of a new Lyric Opera Virginia. The fledgling company announced that it would mount three productions next year, La Traviata, The King and I, and an abridged version of Carmen, but no more details about dates or venues in northern Virginia have emerged.
Baltimore Opera
Only a couple years after the demise of the Baltimore Opera, grand opera will return to the Lyric Opera House this fall in Charm City, with the Baltimore Symphony Orchestra in the pit. The chance to hear Elizabeth Futral again in Verdi's La Traviata (November 4 and 6), after she made a less than great an impression in the title role with WNO, does not seem worth the drive north, nor does yet another Marriage of Figaro (March 9 and 11). Count us in, however, for Stravinsky's modern masterpiece The Rake's Progress (November 18 and 20), with the Peabody Orchestra and student singers, and possibly for Gounod's Faust (April 20 and 22), with the Concert Artists of Baltimore Orchestra. In other good news, Baltimore's chamber opera group Opera Vivente settles into a new home this fall, an arts center purchased by Maryland State Boychoir. They will also do another Marriage of Figaro in the fall, in English as all their productions are, but we'll likely make the trip only for Handel's Ariodante (March 2012), with soprano Ah Hong, and a Baltimore-tinged version of Smetana's marvelous The Bartered Bride (May 2012).
Collegiate Opera
There are occasionally jewels to be heard from the area's many collegiate opera companies, other than umpteen mediocre performances of opera chestnuts. Maryland Opera Studio's decision to cut back its fall production to piano accompaniment rules out their staging of Menotti's Amelia al ballo (November 19 to 22), which would otherwise be of interest. A trip to the Clarice Smith Center in College Park will be warranted, however, for their spring productions, a tribute to American composer Dominick Argento with two one-act operas: Postcard from Morocco (April 20 to 26) and Miss Havisham's Fire (April 21 to 29).
A few other smaller companies, including Catholic University, Peabody Opera, and Opera Bel Cantanti, have not yet announced next year's season.
Subscribe to Washingtonian
Follow Washingtonian on Twitter
More>> After Hours Blog | Arts & Events | Happy Hour Finder | Calendar of Events