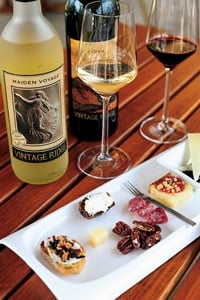 Virginia ranks fifth in the country as a wine producer, and its wines are being noticed nationally and internationally.
"Right now Virginia is doing some great wines," says German Broggi, food-and-beverage director at Blue Duck Tavern in DC. Broggi came to Washington from Los Angeles last year and established a page of Virginia wines at the front of his menu. "The Viognier, Cab Franc, their Bordeaux-style wines—they are comparable with the quality you get in California, and even in Europe," he says.
Middleburg's soil and climate, in particular the steady breeze through the nearby Ashby Gap, allow vintners to craft promising wines that combine the best of European and California vintages. The following six vineyards are open to the public, and most welcome kids and dogs. A tasting generally includes a small pour of each of the wines on the vineyard's list.
Barrel Oak Winery
3623 Grove La., Delaplane; 540-364-6402
The vibe is pure party at this vineyard, which is open until 9 on Friday and Saturday. The contemporary barn accommodates a shop, tables, and a tasting bar. Light bites are available, and picnics are welcome; outside, folks gather around fire pits. Local musicians play on weekends, and the vineyard's frequent charitable events have raised more than $200,000 since it opened in 2008. A tasting is $10, a half flight $6.
Boxwood Estate Winery
2042 Burrland Rd., Middleburg; 540-687-8778
Owned by John Kent Cooke—son of former Redskins owner Jack Kent Cooke—and designed by Washington architect Hugh Newell Jacobsen, this state-of-the-art winery has a renowned French winemaking consultant, Stéphane Derenoncourt, on its staff. From its first vintage in 2006, Boxwood has earned praise for its smooth reds. Wines can be sampled at the Tasting Room, a contemporary wine bar in downtown Middleburg that has outposts in Reston, Chevy Chase, and National Harbor. Vineyard tours, which include a tasting, cost $20 and should be booked in advance online.
Chrysalis Winery
23876 Champe Ford Rd., Middleburg; 540-687-8222
A champion of Virginia's native Norton grape, Chrysalis is one of the area's largest venues. There's a shop with regional specialties and a bar that sells wine by the glass or bottle as well as bread and cheese that you can take out to one of the tables on the lawn. Tastings ($10) are offered every 15 minutes in a converted barn. Check the Web site for music festivals and special events.
Piedmont Vineyards and Winery
2546-D Halfway Rd., The Plains; 540-687-5528
One of the area's oldest vineyards—and the first to plant Chardonnay in the 1970s—Piedmont occupies a pre-Revolutionary estate with a 250-year-old stone manor house. Tastings ($6) take place in a lofty barn. Or buy a bottle and some cheese and meat and relax under a willow tree on the property.
Swedenburg Estate Vineyard
23595 Winery La., Middleburg; 540-687-5219
The simple tasting room at Swedenburg and its handful of outdoor tables have a view of the Bull Run Mountains. Belly up to the bar for a $5 tasting, or bring a picnic and buy a bottle. There's often music on weekends.
Vintage Ridge Vineyards
8517 Maidstone Rd., Rectortown; 540-364-3371
At the end of a winding gravel drive, this winery's tasting room has seating inside a steel-barrel-lined room or in Adirondack chairs under a shady pavilion outside. The friendly owners and staff walk you through a tasting of five wines, recommending pairings from the accompanying plate of charcuterie, cheese, and local chutneys. There are fizzy juices for children. Tours are available on request; a tasting is $18, including food.
This article appears in the June 2011 issue of The Washingtonian.