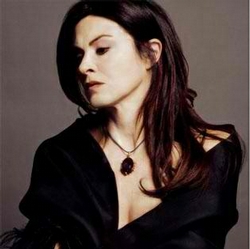 The difference between a song recital and opera is somewhat like the difference between reading a gripping novel and seeing the same novel made into a flashy movie: If you're a book person, you may be a song recital person, too. In few other art forms can you hear a beautiful voice quite so close and concentrated on meaningful words in poetic form. Washingtonians who are adherents of the song recital, as well as those who might think they are, should know about the fine series of recitals presented by Vocal Arts DC.
From the seven recitals of the upcoming 2011-12 season, the three obvious top choices begin with the opening concert by bass-baritone Eric Owens (September 10), at George Washington University's Marvin Center Theater. Owens has a smooth, puissant voice matched by an ease of musicality, which those who saw him in last year's revival of Porgy and Bess at Washington National Opera will recall. Our other picks would be the incandescent Italian soprano Anna Caterina Antonacci (April 11) and the rakish bass-baritone Gidon Saks (May 30), both in the series' regular venue, the Kennedy Center Terrace Theater. If you are really into song recitals, other concerts will be worth the full subscription: We've heard good things about baritone Mathias Hausmann (October 12), and if Graham Johnson believes in soprano Lydia Teuscher (January 26), then we're all ears.
Other vocal events not to miss next season—all presented by different organizations in the Kennedy Center Terrace Theater—include a performance of Schubert's song cycle Winterreise, with the superb baritone Matthias Goerne and Christoph Eschenbach at the piano (March 5); Ute Lemper in a program of cabaret chansons from Berlin and Paris, with the Vogler String Quartet (March 19); more cabaret songs, by Weill, to go with Schoenberg's hallucinatory Pierrot Lunaire, featuring soprano Lucy Shelton (April 3). For your Baroque fix, try the superb period-instrument ensemble Opera Lafayette, performing a program of 17th- and 18th-century music with tenor Jean-Paul Fouchécourt and soprano Gaële LeRoi (October 24, KenCen Terrace Theater). And speaking of rare operas, Opera Lafayette's concert performances of complete operas are both worth hearing next season: Pierre-Alexandre Monsigny's Le Roi et le fermier (January 21) and Giovanni Paisiello's Il Barbiere di Siviglia (April 14 and 15)—the latter was the first operatic adaptation of Beaumarchais's play The Barber of Seville to enjoy widespread success, three decades before Rossini's.
More intriguing vocal performances to consider include songs by Charles Ives, with baritone William Sharp and pianist Jeremy Denk, as well as other music with the Post-Classical Ensemble (November 3, Music Center at Strathmore), part of the larger Ives Project; husband and wife team William Bolcom and Joan Morris singing Broadway, vaudeville, and contemporary songs (April 19, Mansion at Strathmore); and baritone Wolfgang Holzmair with pianist Russell Ryan (February 26, Shriver Hall in Baltimore).
Subscribe to Washingtonian
Follow Washingtonian on Twitter
More>> After Hours Blog | Arts & Events | Happy Hour Finder | Calendar of Events