With Silverdocs out of the way, the AFI Silver is ready to dive back in to its typically heavy schedule of retrospectives, with nine different series sharing time over the next few months, five of them getting started this weekend. That doesn't even include two extremely brief series that are happening right now. One is a series of films from documentarians D.A. Pennebaker and Chris Hegedus, the Guggenheim Symposium honorees from this year's Silverdocs festival, which extends through Saturday. The other is a two-film series of collaborations between French New Wave director Jean-Pierre Melville and actor Jean-Paul Belmondo—the crime thriller Le Doulos, and an engrossing drama about faith in wartime, Léon Morin, Priest—both of which can be seen through tomorrow evening.
Starting this weekend:
Totally Awesome 5: Great Films of the 80s: One of the AFI Silver's most popular series has an excellent set of programming once again this year, including audience favorites plus some lesser-known gems from the '80s. This weekend, the party gets underway with the continuation of the adventures of Marty McFly in Back to the Future Part II, the always watchable underdog sports tale The Karate Kid, and for all the video game geeks out there, screenings of the original Tron in a special 70mm print that promises to showcase every pixel of that film's glowing neon glory.
Keeping Up With the Coen Brothers: This series from the Coens highlights a baker's dozen of their films, extending from the very first (Blood Simple) to the most recent (True Grit). This weekend, the series opens with the film with the most dedicated cult following from the pair, Jeff Bridges' turn as a stoner-hippie Philip Marlowe in The Big Lebowski.

Elizabeth Taylor: A Screen Remembrance
In honor of the career of Elizabeth Taylor, who passed away earlier this year, the AFI offers up this 15-film series with titles from throughout her career. This weekend features two of her earliest roles, while she was still a teenager, in Father of the Bride and A Place in the Sun.
Alfred Hitchcock Retrospective: Part III: The AFI has spent much of this year running through the entire career of Alfred Hitchcock, and in the third part of the series, they reach work modern audiences know best, the run of films from the mid-1950s through the early '70s that includes his best-known works and brought him to the end of his career. This weekend things get started with my personal favorite of all of the director's films, the masterpiece of claustrophobic voyeurism that is Rear Window, with Jimmy Stewart playing a wheelchair-bound photographer watching the world through his window, when he witnesses a terrible crime that may not be quite what it initially seems.
Dennis Hopper: A Screen Remembrance: We lost the iconoclastic Dennis Hopper just over a year ago, and this eight-film series offers a look back at the actor's varied career, from his turn as a teen gang member in Rebel Without a Cause to the disturbing psychosexual nightmare of David Lynch's Blue Velvet. This weekend, they start with perhaps the quintessential movie of the 1960s, Easy Rider, which Hopper not only starred in, but also directed and co-wrote.
Starting this weekend at the AFI Silver. Check their site for complete schedules.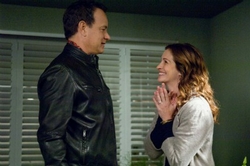 Larry Crowne
It's been 15 years since Tom Hanks directed his only other feature film, 1996's charming That Thing You Do!, about a young rock 'n' roll band dealing with sudden success in the mid-1960s. For his return behind the camera (episodes of From the Earth to the Moon and Band of Brothers that he directed notwithstanding), Hanks goes for romantic comedy with a splash of social commentary and educational inspiration. Larry Crowne stars Hanks as a middle-aged veteran working at a Wal-Mart style big-box store who suddenly finds himself out of a job and lacking in marketable skills. He decides to enroll in some courses at the local community college, where he takes a speech class from-—and falls for—a professor played by Julia Roberts.
View the trailer.
Opens Friday at theaters around the area.
Page One: Inside the New York Times
Silverdocs continues to linger in ways other than the AFI's Pennebaker/Hegedus retrospective, with the theatrical release of this documentary about the New York Times that had its local premiere at the festival last week. Andrew Rossi's documentary takes a look at the inner workings of the Gray Lady over the course of a year, using the country's largest newspaper as a window into the challenges faced by newspapers as a whole. Reviews have been mixed, but this is surely still a must see for any media junkie, or anyone who cares about the future of journalism in this country. Which should be all of us.
View the trailer.
Opens Friday at E Street and Shirlington.
Passione
John Turturro's mother was a jazz singer, which may partially explain the actor's fascination with music on film. In 2006 he directed an odd and underseen musical comedy, Romance & Cigarettes, and with his latest, he largely jettisons the need for a storyline with his tribute to the music of Naples, Passione. The director collects a series of songs from the area and creates what essentially amount to music videos for each, giving the film some context and tying things together with information on the history of the city's music and how that is reflected in what's seen onscreen.
View the trailer.
Opens Friday at West End Cinema.


12 Angry Men
In the third entry in this week's column highlighting a retrospective for a recently departed film artist, Arlington's Artisphere is starting a four-week series of films from director Sidney Lumet. That starts next week with Lumet's very first—and still one of his best—films, 12 Angry Men. It was an impressive debut for Lumet, working on his first feature after an early career spent working in television. Reginald Rose's script also had its origins on the small screen, then becoming a stage play, and finally adapted for the big screen by Lumet, who kept the production bare-bones, keeping all but a few scenes in the claustrophobic jury room as the titular jurors debated the guilt or innocence of a young man accused of killing his father. One would think there's a limited amount of drama to be wrested from twelve men talking in a room, but Lumet proves that with the lean, taut direction of a talented ensemble cast, including Lee J. Cobb, Jack Warden, Jack Klugman, and led by Henry Fonda, the possibilities for thought-provoking, gripping drama are practically limitless. Most impressively, though, this film is over half a century old, it remains just as relevant today as it did in 1957.

View the trailer.
Screens next Wednesday, July 6, at 8 PM at Artisphere, $6 (or $20 for all four films in Artisphere's Sidney Lumet retrospective).


Blu-Ray/DVD Pick of the Week: Black Moon
Genre-hopping French director Louis Malle refused to be pinned down to a particular style, starting as a contemporary of the French New Wave, though never really part of it, and eventually coming to the United States and making wildly varied films from crime thrillers to war dramas to meta-theater pieces—even a film that is nothing but a single conversation held over the course of a dinner. Malle was a director who could find a measure of mainstream acceptance even when being experimental, as he did with My Dinner with Andre. In Black Moon, the filmmaker experimented with an entirely different sort of filmmaking, blending surreal fantasy with reality and eschewing a normal story arch.
Tangentially inspired by Lewis Carroll, the film centers on a teenage girl visiting the grounds of a country estate who finds herself, much like Alice, thrown into a series of unreal episodes. These allow Malle the space to explore the politics of women's liberation via the fantastical and allegorical adventures of this young woman. Shot by Sven Nykvist, who had plenty of experience shooting dreamy images for Ingmar Bergman, the film was largely forgotten for many years before coming back out of the vaults for cable television airings recently, and now reissued on disc by Criterion.
Special Features: An archival interview with Louis Malle, production photos, an alternate french-dubbed soundtrack, and the original trailer.
View the trailer:
Subscribe to Washingtonian
Follow Washingtonian on Twitter
More>> After Hours Blog | Arts & Events | Happy Hour Finder | Calendar of Events