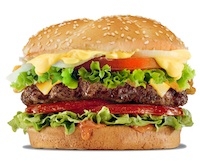 Yesterday, we gave you Michael Landrum's tips for a perfect burger, but we have to admit that it's a scenic route to a juicy patty. And let's be honest: sometimes there are days that convenience and laziness win out, and you just want a pre-formed burger that you can throw on the grill. We're guessing one of those days might be this Friday—a hot afternoon right before a long weekend—and we just saw a pretty great deal at Whole Foods on P Street, Northwest: burgers for $1. (Who knew anything at Whole Foods was that cheap?)
The burgers, which are six to eight ounces, are made from 85-percent lean beef and come in eight varieties: bacon-and-blue-cheese, jalapeno-cheddar, bistro-Burgundy, Jamaican jerk, old-fashioned, steakhouse, Southwest chipotle, and original. The sale is valid only on Friday, July 1; store hours are 8 AM to 10:30 PM.
Whole Foods, 1440 P St., NW; 202-332-4300.
Subscribe to Washingtonian
Follow Washingtonian on Twitter
Follow the Best Bites Bloggers on Twitter
More>> Best Bites Blog | Food & Dining | Restaurant Finder