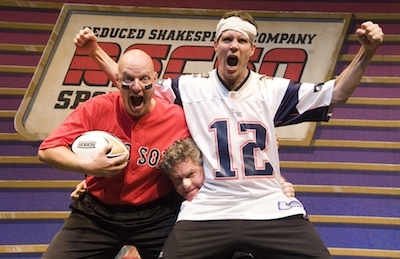 Tuesday, July 5
THEATER: Sports fans won't want to miss opening night of The Complete World of Sports (abridged) at the Kennedy Center. Hilarity ensues as the Reduced Shakespeare Company, a three-man comedy troupe, recaps the entire history of sports in under two hours. From the earliest cavemen playing "Neanderthal in the Middle" to modern day eating competitions, the trio covers athletic competition in record time. Tickets ($39 to $49) can be purchased at the event Web site.
MUSIC: Indie rock bands Matrimony and Little Pink are dropping by Iota Club & Cafe. Matrimony has toured with Modest Mouse and Mumford & Sons. Tickets ($10) can be purchased at the event. 8:30 PM.
FILM: Take a load off after work with some laughs (and maybe a drink or two) at the Arlington Cinema & Drafthouse's $2 screening of Your Highness. When a prince's bride is kidnapped, he goes on a quest to rescue her—accompanied by his dimwitted brother. Starring Natalie Portman, James Franco, Zooey Deschanel, and Danny McBride. Film begins at 9:50 PM.
SIGNING: Tyler Cowen is dropping by Politics and Prose to sign hardcover copies of his new book, The Great Stagnation: How American Ate All the Low-Hanging Fruit of Modern History, Got Sick, and Will (Eventually) Feel Better. Cowen explores the precarious relationship between technological growth and a country's prosperity. The George Mason University professor argues that even though smartphones and gadgets are exploding from the marketplace, we've failed to keep pace in creating new jobs and wealth. The book was originally sold as an ebook for $3.99, but members can purchase a hardcover copy for Cowen to sign at a discount. Free; 7 PM.
Subscribe to Washingtonian
Follow Washingtonian on Twitter
More>> After Hours Blog | Arts & Events | Happy Hour Finder | Calendar of Events