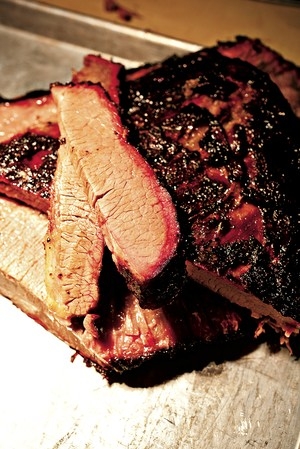 BEST RIBS
KBQ Real Barbecue
12500 Fairwood Pkwy., Suite B1, Bowie; 301-352-8111
Without an open-pit barbecue on the premises—outlawed in Prince George's County and most other area jurisdictions—it's hard to get the penetration of smoldering hickory and oak that transforms slabs of beef and pork into tender lusciousness. Yet Kerry Britt—the KB of KBQ Real Barbecue—manages nicely: On a smoker in back of his strip-mall restaurant, he gives meats a slow cook, then finishes them inside on the grill. Early at lunch and early at dinner are the best times to go—you're more likely to find the meats at their best. Ideal meal: the meaty, spice-rubbed ribs or the long, soft slices of brisket with a side of the shrimp-studded potato salad and a slice of Carla's Key-Lime Pie.
BEST BRISKET
Hill Country
410 Seventh St., NW; 202-556-2050
Ignore the fact that Hill Country is a slick experience out of New York City. Focus instead on the "moist," or fatty, brisket. It's a good kind of fatty: the kind that melts on your tongue. That nothing else on the menu approaches its magnificence is not to say nothing else is worthy. The smoked chicken is excellent, as are the plump links of sausage from the famed Kreuz Market in Lockhart, Texas—the place that inspired owner Marc Glosserman, a Bethesda native, to craft this paean to pink-ringed meat.
BEST MOBILE 'CUE
The Blues BBQ Co.
5822 Urbana Pike, Frederick; 240-674-5805
We wouldn't hesitate to make the trip to Frederick just for a hearty fuel-up at the Blues BBQ Co., one of the region's best food trucks. A sandwich of North Carolina–style pulled pork—the thin strands juicy and redolent of smoke and vinegar—topped with creamy coleslaw is one of the glories of the area's food scene. And don't miss the marvelous scallion hushpuppies.
This article appears in the July 2011 issue of The Washingtonian.
Subscribe to Washingtonian
Follow Washingtonian on Twitter
Follow the Best Bites Bloggers on Twitter
More>> Best Bites Blog | Food & Dining | Restaurant Finder