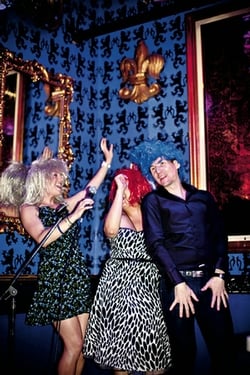 BEST FOR NEWCOMERS
Muzette
2305 18th St., NW; 202-758-2971
If the idea of singing in front of a crowd brings on a cold sweat, try a private room at Muzette in DC's Adams Morgan. The Korean bar and restaurant offers karaoke "studios" as well as decent Korean food and music-inspired cocktails (Billie Jean, Like a Virgin). A button summons a waiter when drinks are running low, and the song list has more than 70,000 tracks. Room rates vary from $25 to $80 an hour.
BEST FOR PLAYING DRESS-UP
Solly's U Street Tavern
1942 11th St., NW; 202-232-6590
Little Miss Whiskey's Golden Dollar
1104 H St., NE; no phone
If you're coming straight from work, it can be tricky to channel Cher while wearing Ann Taylor, but that's where Debbi Arseneaux steps in: At her Kostume Karaoke, you pick a song, then choose an outfit from the selection hanging nearby. Don't bank on making sense—you're more likely to find a toy sword and a wizard's hat than an Alice Cooper fright wig. Kostume Karaoke is at Solly's U Street Tavern the second and fourth Wednesday of every month and at Little Miss Whiskey's Golden Dollar the first and third Wednesday.
FOR WANNABE ROCK STARS
Hill Country
410 Seventh St., NW; 202-556-2050
Whitlow's on Wilson
2854 Wilson Blvd., Arlington; 703-276-9693
Wonderland Ballroom
1101 Kenyon St., NW; 202-232-5263
Why sing along to synthesized tracks when you can utter the immortal words "I'm with the band"? Washington's own live karaoke band, HariKaraoke, tours bars in DC and Northern Virginia. The band features a lead guitarist, bassist, keyboard player, and drummer; its repertoire ranges from Elton John to Lady Gaga. HariKaraoke is at Hill Country on Wednesday and at Whitlow's on Wilson and the Wonderland Ballroom every other Tuesday.
BEST FOR PROFESSIONALS
1409 Playbill Café
1409 14th St., NW; 202-265-3055
The quality of most karaoke performers can be erratic, but not at 1409 Playbill Café, a Logan Circle bar where actors and in-the-know regulars meet Monday and Thursday for high-quality karaoke. The space is small—in the front of the quirky, theater-themed restaurant—but the song list has lots of show tunes and classics. You might catch a future Broadway star practicing some Streisand.
BEST FOR PRETENDING YOU'RE ON VACATION
Freddie's Beach Bar
555 23rd St. S., Arlington; 703-685-0555
Nothing brings up memories of spring break and umbrella-drink-fueled sing-offs quite like Freddie's Beach Bar, where the mostly gay crowd belts out retro numbers on a stage surrounded by disco balls and plastic flamingos. Karaoke is nightly from 9 until late, with an enthusiastic crowd and a kitschy song list.
This article appears in the July 2011 issue of The Washingtonian.

Subscribe to Washingtonian
Follow Washingtonian on Twitter