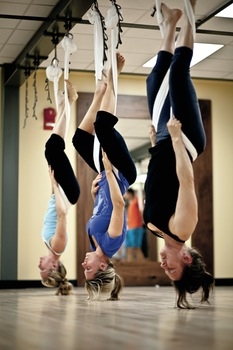 An unusual new class at Crunch gym in Chevy Chase DC might be the perfect way to combine fitness and fun. AntiGravity Yoga—a fusion of yoga, Pilates, and acrobatics—offers an exhilarating workout by means of a nine-foot hammock: Swinging on the fabric allows you to support your body while easily achieving advanced poses.
Although the moves look intimidating—hanging upside down with only a slim fabric support around your hips—the process is surprisingly simple, requiring only an initial leap of faith. The class incorporates traditional yoga positions and pays attention to breathing and alignment, although some moves seem designed mostly for entertainment, such as swinging freely while sitting on the hammock.
It's a good way to strengthen and stretch your muscles and joints without putting pressure on your neck and back. And hanging upside down from the ceiling can make you feel like a kid again.
AntiGravity Yoga is at Crunch Chevy Chase (5100 Wisconsin Ave., NW; 202-621-7622) five days a week; gym memberships start at $29.99 a month.
This article appears in the July 2011 issue of The Washingtonian.