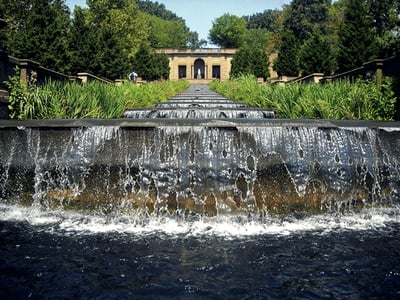 Washington has noted gardens, including the National Arboretum, the Botanic Garden, and Constitution Gardens. Here are other favorites that often get overlooked—adding to their charm and tranquility. With shady patches, they're perfect for summer. And they're free.

BEST FOR ROSE LOVERS
Bon Air Memorial Rose Garden
850 N. Lexington St., Arlington; 703-228-6525
Midsummer is prime time at Arlington's Bon Air Rose Memorial Garden, with its 135 rose varieties. Up a trail from the roses are shaded gardens where gardeners with little sun also find inspiration. Within the larger Bon Air Park, visitors can grill or play basketball, volleyball, or tennis.
MOST CONTEMPLATIVE
Franciscan Monastery
1400 Quincy St., NE; 202-244-4833
The Franciscan Monastery's formal garden, with its arched stone walkways, transports visitors to the Italian Renaissance. But the real treasure is the dark, almost brooding forest below with its ornamental trees, shrubs, full-scale replica of the grotto at Lourdes, and benches for repose.
HIDDEN GEM
Green Spring Gardens
4603 Green Spring Rd., Alexandria; 703-642-5173
Green Spring Gardens surprises even locals—the 27 acres are camouflaged by woods, and the 20 demonstration gardens and the native plant collection are as lovely as they are instructional. Fountains flow into large ponds; shady paths and small streams beckon in summer. The dog-friendly open space attracts picnickers and occasional wildlife—from deer to owls.
MOST EXOTIC
Mary Livingston Ripley Garden
Next to the Arts and Industries Building; 202-633-2220
The Mary Livingston Ripley Garden, shaded by Smithsonian buildings, is a nice rest stop for Mall visitors. The "living museum" boasts a big variety of blooms chosen partly for their unusual provenance and fragrance. A cast-iron fountain, benches, and hanging baskets add Victorian charm.
BEST-KEPT SECRET
McCrillis Gardens
6910 Greentree Rd., Bethesda; 301-962-1455
With its old stone house, McCrillis Gardens often gets mistaken for the private estate it once was. Benches welcome you to nap amid flowering shrubs and trees. The rhododendrons and azaleas are glorious in spring; draws in summer are the shady lawn and paths lined with perennials. No picnics allowed.

FANTASTIC FOUNTAIN
Meridian Hill Park
16th St. between W and Euclid Sts., NW
A cascading waterfall and hilltop views make Meridian Hill Park's 12 acres some of DC's grandest. The bench-lined grassy expanse on the upper level accommodates everything from jam sessions to dog walkers. In summer, flora lovers enjoy the colorful lily pond on the lower level.
This article appears in the July 2011 issue of The Washingtonian.