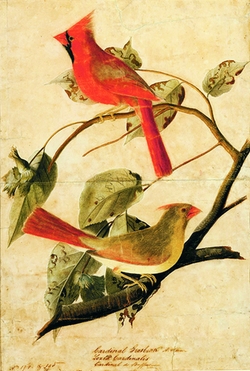 An exhibit opening July 15 at the Smithsonian American Art Museum captures a time when national pride was at the forefront of scientific and artistic innovation. "The Great American Hall of Wonders" includes paintings by John James Audubon, Winslow Homer, Charles Willson Peale, and others alongside examples of the scientific developments of the time: patent models, engineering studies, photographs. Here's a conversation with curator Claire Perry.

What were you hoping to show in the exhibition?
Nineteenth-century Americans were so excited about the possibilities of science and technology improving their lives, and as they embarked on building this nation, they were all fired up. Today we've lost some of that fire, and President Obama has been speaking about the need to recapture the love of science. I saw that maybe there was something to learn from our forebears about the transformative power of inventiveness.
What was your process in selecting items?
I had my dream list, and although the checklist of works has evolved over time, an amazing array of about 50 organizations have loaned us works. Museums operate on a sort of geological time frame, so works requested five years ago might have had loan papers finally rolling into the Smithsonian last week. But the director of the museum, Betsy Broun, has gone to bat for a number of important works, like Peale's "The Artist in His Museum," which is critical for this show. I'm still pinching myself.

What do you think the exhibit says about art at the time?
Art was kind of the unwelcome stepchild at the table in the 19th century. Citizens were excited about the practical benefits of things, but they weren't really clear what the role of art-making was. Something I hope to convey is that in fact artists were an element of American society that was able to envision this very fragmented nation as a whole, and as they paint landscape after landscape, they're cobbling together the idea of a national body rather than a bunch of states tenuously held together. They're the visionaries who keep their finger on the pulse of the national spirit.

"The Great American Hall of Wonders" runs through January 8 at the Smithsonian American Art Museum Eighth and F Sts., NW; 202-633-1000.
This article appears in the July 2011 issue of The Washingtonian.
Subscribe to Washingtonian
Follow Washingtonian on Twitter
More>> After Hours Blog | Arts & Events | Happy Hour Finder | Calendar of Events