Co-owners John Warner (seated) and David Ashwell; braised lamb shank with pomme boulengere potatoes, ratatouille sauce, and peas. Photographs by Emma Patti
At the just-opened Bistrot Le Zinc in Cleveland Park, nearly everything is made from scratch—just one of a number of nods to the owners' former employer, Robert Wiedmaier. Co-owner David Ashwell worked for ten years as chef de cuisine at Marcel's and Brasserie Beck, and John Warner was a manager at the latter. Their week-old restaurant also recalls Wiedmaier's cooking style with such dishes as French onion soup, house-cured gravlax, and vermouth-spiked steamed mussels with fries.
With its dark wood tables and red leather banquettes, the 60-seat space (there'll be a 24-seat patio by August) matches the menu's homey, rustic theme. The yellow walls are dotted with 1960s-era menus from Parisian bistros as well as personal photographs—the Everton soccer team for the New Zealand-born Ashwell and a shot of Warner's nephews. There's even a scene of Bill Clinton's national-security team in a see-no-evil pose. An eight-seat bar has a drinks lineup of Belgian beers and Champagne cocktails.
The opening menu includes both traditional (blanquette de veau) and slightly tweaked (snails with apples, Stilton, and wild garlic) French classics. (In coming months, look for lunch, weekend brunch, and seasonal specials.) What you won't find? Deconstructed Niçoise salad.
"We're not here to reinvent the wheel," says Ashwell. "We're here to make the wheel roll nicely."
Bistrot Le Zinc. 3714 Macomb St., NW; 202-686-2015; lezincdc.com. Open daily for dinner.

Click the menu to view at full size.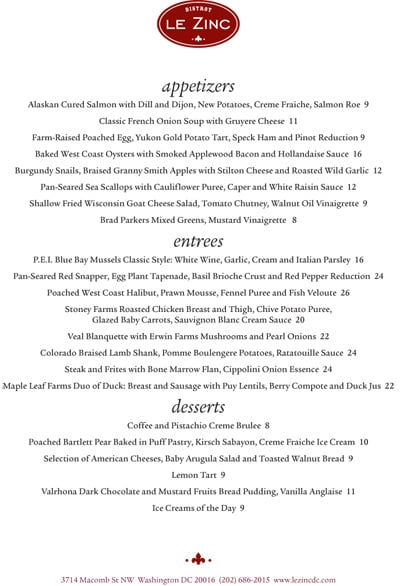 Subscribe to Washingtonian
Follow Washingtonian on Twitter
Follow the Best Bites Bloggers on Twitter
More>> Best Bites Blog | Food & Dining | Restaurant Finder