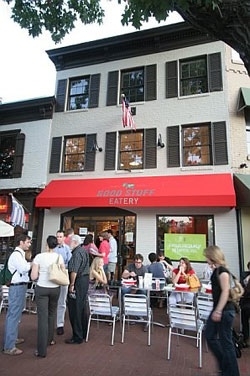 Three years ago this month, Spike Mendelsohn opened Good Stuff Eatery on Capitol Hill, a burger joint that has had a line out the door since day one—and has gotten the Michelle Obama stamp of approval. Now that his operation is a well-oiled machine, he's bringing his wildly popular toasted-marshmallow milkshakes to two more locations next year: Crystal City and Georgetown.
Why those neighborhoods? It's all based on customer feedback, says Mendelsohn's sister and public-relations representative, Micheline: "A lot of people have been asking us to open in Crystal City," she says. "As for Georgetown, [customers] have been asking us [to go there] since the first day we opened."
The Crystal City outpost will open first, hopefully in January, on Crystal Drive in the thick of the restaurant row; neighbors include Ruth's Chris Steakhouse and Chipotle. Micheline estimates that the space is two to three times larger than the original, which will allow for a private-events room and a large "milkshake station" so that customers can watch the custard-spinning process up close.
The Good Stuff Eatery team hasn't yet signed a lease in Georgetown but is looking closely at two spaces. "We're not sure where we'll settle," says Micheline, "but Georgetown will definitely be our third location." The menu there and in Crystal City will be the same as on Capitol Hill.
Micheline says the next phase is to open in other cities including Boston, Philadelphia, Chicago, and somewhere in Texas. The three-to-five-year plan is to go international, probably in Europe.
As for We, the Pizza, Mendelsohn's restaurant next to Good Stuff, Micheline says people have approached Spike about replicating it, but for now he's focusing on burgers. Nonetheless, he's not resting on his laurels when it comes to the pizzeria: Friday, he's launching a new menu there with subs (think spicy Italian, chicken-cutlet, and meatball) and wings with a dipping-sauce bar.
Subscribe to Washingtonian
Follow Washingtonian on Twitter
Follow the Best Bites Bloggers on Twitter
More>> Best Bites Blog | Food & Dining | Restaurant Finder